Inpatient Pharmacy
The inpatient Pharmacy Department provides service to three campuses of Kaweah Health.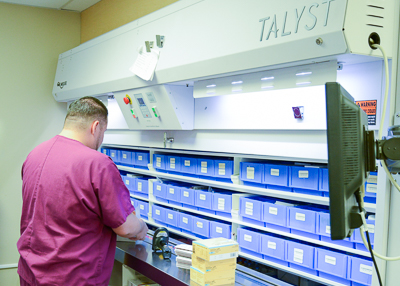 ​The inpatient pharmacy department has a staff of 120+ with 50+ clinical pharmacists (greater than 80% have completed at least a PGY1 residency, greater than 55% are Board certified) and operates 24/7 inpatient pharmacy services. Medications are primarily dispensed using unit-based medication dispensing cabinets with the addition of centralized IV additive and chemotherapy preparation services. A full array of technology is available to assist with distribution of medications to our patients. This includes automated inventory management (Talyst® Carousel), automated dispensing cabinets (Pyxis ES®), bar code technology, automated TPN compounder (Baxter®) and workflow management systems (DoseEdge®).
Pharmacy services utilize an integrated decentralized staffing model. Pharmacists practice on nursing units participating in order verification, provision of drug information and clinical pharmacy services. Clinical pharmacy services include patient care rounding on select floors, pharmacokinetic consults, anticoagulation management, automatic intravenous to oral switches, automatic renal dose adjustments and automatic therapeutic interchanges. Medication history review activities are integrated in pharmacist floor activities on select medical-surgical units. Specialty pharmacy services include Infectious Disease, Critical Care, Emergency Medicine, Oncology, Pediatrics, Anemia Management, Pain Management and Anticoagulation. Kaweah Health Pharmacy Department's Anemia Management service was the recipient of an ASHP Best Practice Award in 2010 and the Pain Management service was the recipient of an ASHP Best Practice Aware in 2014.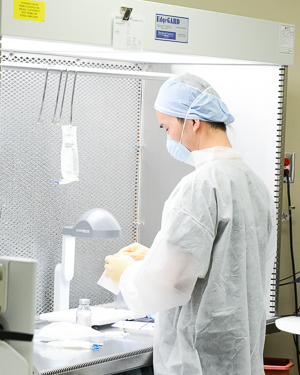 ​Kaweah Health's Pharmacy Department is designated as a Center of Excellence in Experiential Education teaching site for University of California San Francisco pharmacy students. On average, the pharmacy department hosts over 45 pharmacy student rotations per year on average. Pharmacists service as preceptors, participate in hospital committees, round with medical teams and are an essential part of the healthcare team.
The medication needs of inpatients are also supported by pharmacy technician staff. Pharmacy technician staff are divided into Level 1 and Level II technicians. The pharmacy tech staff supports replenishment of unit-based dispensing cabinets (Pyxis ES) where 98% of medication doses are dispensed. Additional medications, including IV preparations, not dispensed by Pyxis are prepared by technicians and dispensed from the inpatient pharmacy under the supervision of pharmacists. Pharmacy patient care technicians support the review of medication histories for patients who are at considered high risk..
At Kaweah Health, we are committed to providing high-quality, customer-oriented and financially strong healthcare services that meet the diverse needs of the patients we serve. The pharmacy staff's goal is to provide personal, professional and compassionate experiences to every person, every time.