Stroke
---
​Kaweah Health receives 2023 Get With The Guidelines® - Stroke GOLD PLUS with Honor Roll Elite and Target: Type 2 Diabetes Honor Roll Quality Achievement Award
The American Heart Association and American Stroke Association recognize Kaweah Health for its continued success in using the Get With The Guidelines®-Stroke GOLD PLUS with Target: Stroke Honor Roll Elite and Target: Type 2 Diabetes Honor Roll. Kaweah Health applies the most up-to-date evidence-based treatment guidelines to improve patient care and outcomes in the community we serve. For more information, please visit Heart.org/GWTGQualityAwards.
---
Learn the Six Signs of Stroke In Less Than 60 Seconds
Learn the 6 signs of stroke in less than 60 seconds with Dr. Sean Oldroyd, Stroke Program Medical Director at Kaweah Health. Please remember to share this information with your loved ones - it could save their lives.
Recognize the signs of a stroke:
B.E. F.A.S.T. and SAVE A LIFE: ➡ Balance ➡ Eyes ➡ Face Drooping ➡ Arm Weakness ➡ Speech Difficulty ➡ Time to call 9-11.
---
Security Officer Saves Patient Suffering Stroke | Kaweah Health
Kaweah Health's Security Officer, Wendy Rodriguez Hernandez, saved life of a patient suffering a stroke at Kaweah Health. Watch as she explains her heroic deed.
---
---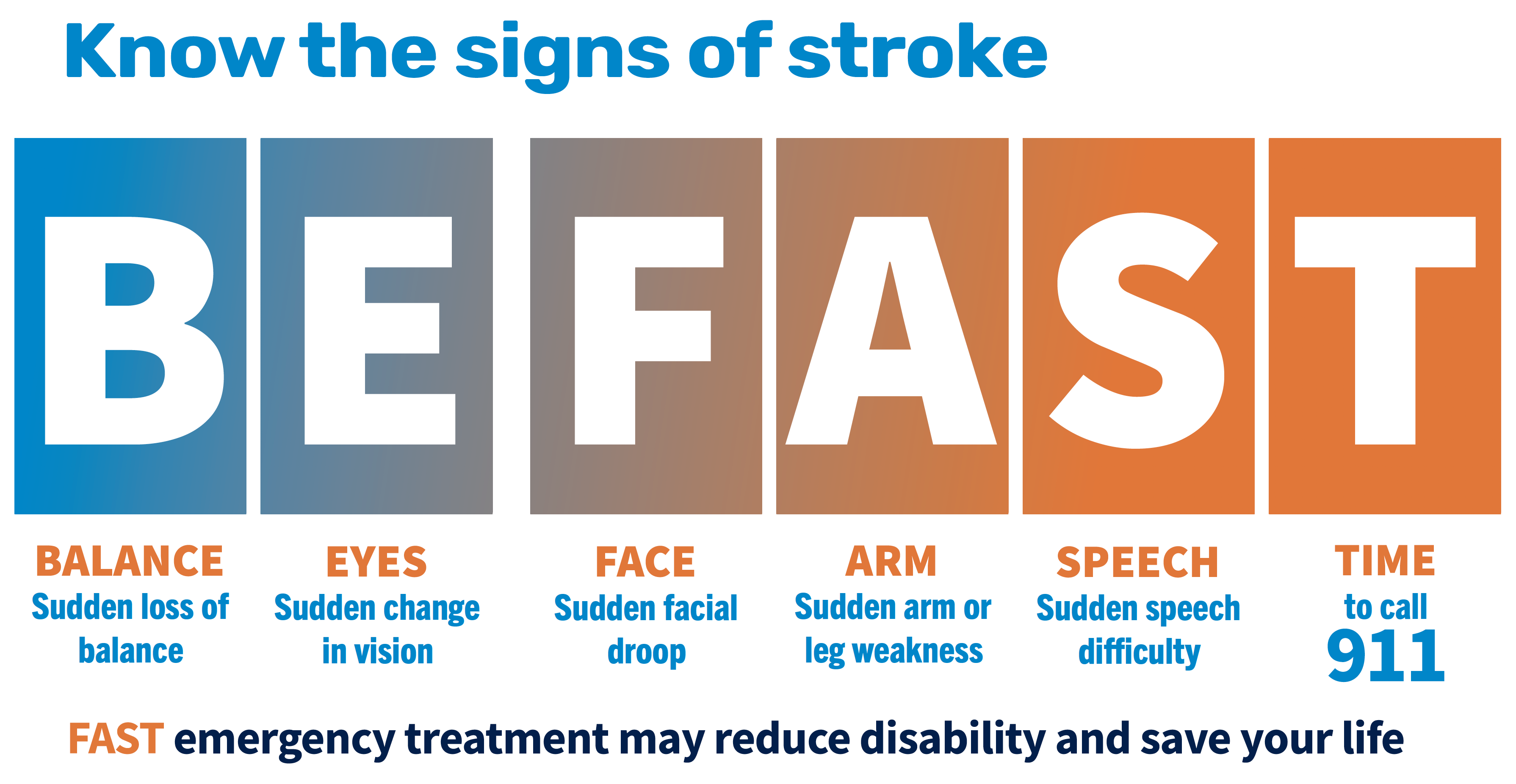 It's important to recognize stroke-like symptoms and get to the closest emergency department fast. An easy way to remember is through the acronym BE FAST. B is for Balance - a sudden loss of Balance. E is for Eyes - a sudden change in vision. F is for FACE: Does one side of the patient?s face droop more than the other? A is for Arms: Can you raise both arms and keep them raised for 10 seconds? C is for Speech: Is the patient?s speech slurred more than usual? T is for Time: If you see any of these signs, it?s time to call 911.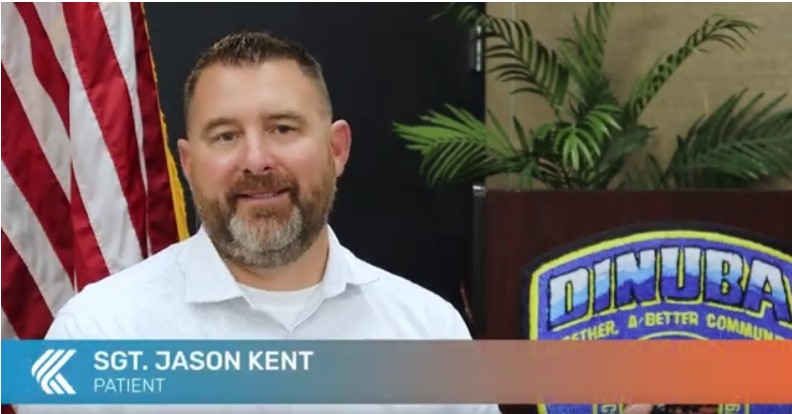 Patient Story: Time waits for no one and neither does a stroke. On April 21, 2021, Sgt. Jason Kent, 41, from the Dinuba Police Department was working a graveyard shift when the unimaginable happened. Click HERE to Learn More.
---
Kaweah Health Stroke Program
Preventing & Treating Strokes in Visalia, Tulare County & Surrounding Areas
About Our Stroke Program
Stroke is the 5th leading cause of death in the nation. Every 40 seconds, someone in the United States has a stroke, and every four minutes one person will die from a stroke. According to the California Department of Public Health, more people die of a stroke in Tulare County than in the state of California (42.7 per 100,000 compared to 38.1 per 100,000 deaths). Stroke is a disease that affects the blood vessels that take blood to your brain.
Kaweah Health is committed to providing the best care possible for our patients who have had a stroke or TIA (transient ischemic attack). According to Healthgrades Clinical Quality Reports, Kaweah Health's stroke death rate has been beyond expectations as compared to other hospitals throughout the nation. With this commitment, Kaweah Health has obtained the Joint Commission's Primary Stroke Certification. By pursuing certification, Kaweah Health has reduced the variation in clinical processes thus improving the quality of patient care and increasing community education on stroke prevention.
Mission Statement
The mission of Kaweah Health's Stroke Program is to provide timely, patient-centered and evidence-based care to achieve the best possible outcomes for patients with signs and symptoms of acute stroke.
Goals
Rapid identification of patients with signs/symptoms consistent with acute stroke.

Management of acute stroke patients appropriately and efficiently according to best practice guidelines.

Maintain certification a as a Primary Stroke Center and identified as a neurological center of excellence.
---
Setting up Medical ID on your smartphone is FREE, and it could save your life.
If you were injured or unconscious, would emergency medical personnel be able to access your phone for important medical information? If not, this is for you.
WHY DO IT? Setting up Medical ID on your phone can give first responders access to critical medical information, even if your phone is locked.
This information can be shared with emergency care providers, and makes it possible for your emergency contacts to be notified.
Set up your Medical ID
Show family and friends how to set their Medical ID
Set a repeat reminder to ensure Medical ID is accurate
It's simple! Use the following links to access step-by-step instructions for setting up your Medical ID on your smartphone. It's easy, and it could save your life!
---
When Minutes Matter
Learn more about Carolyn Hill, stroke survivor - Click HERE
---
Scope of Services
24 Hours, 7 Days a Week
Neurology, Intensivists & Hospitalists

Laboratory

Radiology - CT, CT Angiogram, CT Brain Profusion, MRI

Pharmacy

Emergency Department Stroke Alert Team Lead

Rapid Response Team (RRT) responds to all in-patient stroke alerts
Business Hours, 7 Days a Week
Case Management and Social Services

Physical and Speech Therapies

Admits to Acute In-Patient Rehabilitation Hospital
Business Hours, 6 Days a Week
*Endovascular procedures require transfer to another facility.
---
Stroke Quality Measures
Kaweah Health Named Top 10% in Nation for Treatment of Stroke in 2022
Kaweah Health is recognized for superior outcomes in Neurosciences according to Healthgrades
Kaweah Health is among the top 10% in the nation for the Treatment of Stroke and a recipient of the Recipient of the Healthgrades 2022 Stroke Care Excellence Award™ according to new analysis by Healthgrades, the leading resource that connects consumers, physicians and health systems. Every year, Healthgrades evaluates hospital performance at nearly 4,500 hospitals nationwide for 31 of the most common inpatient procedures and conditions.
Healthgrades Specialty Excellence Awards recognize hospitals with superior performance in specific specialty lines and specialty focus areas. From 2018-2020, patients treated at hospitals receiving the Neurosciences Specialty Excellence Award have, on average, a 37.0% lower risk of dying than if they were treated in hospitals that did not receive the award. And patients treated at hospitals which did not receive the Neurosciences Specialty Excellence Award are, on average 1.59 times more likely to die than if they were treated at hospitals that did receive the award.
"We want to provide information to make finding a healthcare specialist an easier experience for consumers. Patients can feel confident knowing that hospitals that are recognized for their performance in Neurosciences provide high-quality care and superior outcomes," said Brad Bowman, MD, Chief Medical Officer and Head of Data Science, Healthgrades.
---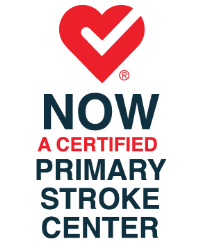 Advanced Primary Stroke Center
In Spring 2018, The Joint Commission and the American Stroke Association awarded Kaweah Health Medical Center certification as an Advanced Primary Stroke Center. The certification means that Kaweah Health is making exceptional efforts to foster better outcomes for stroke patients. "We commend Kaweah Health for becoming a leader in stroke care, potentially providing a higher standard of service for stroke patients in its community," said Patrick Phelan, Executive Director, Hospital Business Development, The Joint Commission.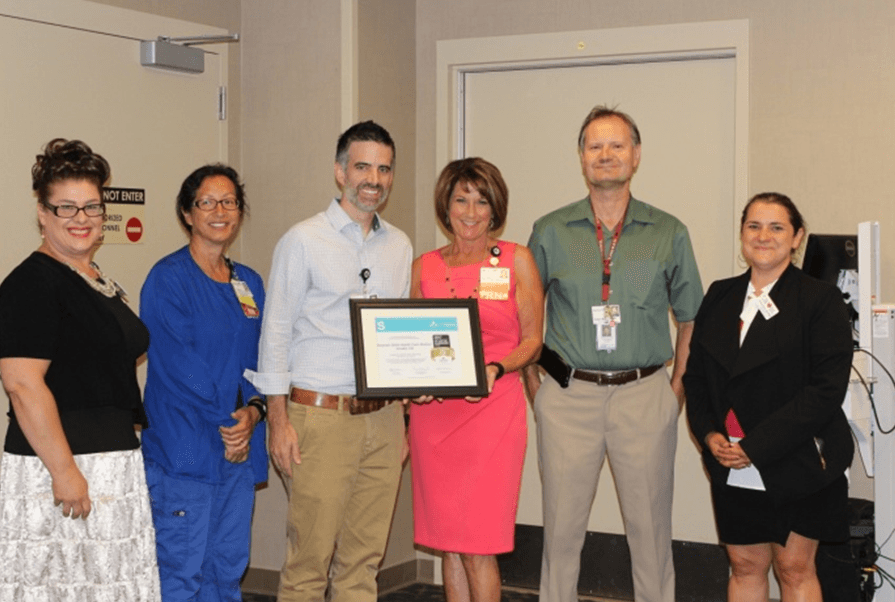 Patient Visits at Kaweah Health
Emergency Department

Annual visits
91,423
Monthly Visits
7,618
Daily Visits
250
---
Stroke Alerts

Annual
800
Monthly
98
Daily
3
---
Patient Types

Ischemic
398 Annual
33 Monthly
Hemorrhagic
100 Annual
8 Monthly
TIA's
303 Annual
25 Monthly
Stroke Program Leadership
Dr. Sean Oldroyd Stroke Program Medical Director

Cheryl Smit, RN-BC Stroke Program Manager

Emma Camarena, RN Advanced Practice Nurse

Kelsey Zapata, PharmD, BCPS, BCCCP Emergency Department Pharmacist
Program Contact Information
Cheryl Smit, RN, Stroke Manager
(559) 624-2133
Kaweah Health Quality and Patient Safety Department
520 W. Mineral King Ave ~ Visalia, CA 93291