Orthopedics
State-Of-The-Art Orthopedics in the Central Valley
Kaweah Health Virtual Wellness Chats
Joint Replacement Seminar: Total Joints: Hip & Knee
Wednesday, March 31 - 6 - 7 PM
Past Online Joint Replacement Seminar
When is the right time to undergo a hip or knee replacement? Can I avoid surgery? These are questions that Jason Mihalcin, D.O., and Jun Kim, D.O., MMS, sat down to answer in our online joint replacement seminar.
Joint Replacement Presention - Click HERE to view slide presentation
What Qualifies You for a Joint Replacement?
You may qualify for joint replacement if you have:
Arthritis on xrays
Failed Non-operative treatments
Disabling pain
Acceptable surgical risk.
As a nationally recognized hospital, Kaweah Health Medical Center collaborates with orthopedic surgeons in the region, with local affiliations and specialized training, to treat everything from the ordinary to the most complicated of orthopedic conditions. Our caring and board-certified orthopedic doctors are performing the latest proven procedures in:
Total joint replacements, including the anterior approach
Joint repair and modifications
Arthroscopies
Full-Service Orthopedic Care
Comprehensive orthopedic services help people leave the pain behind. Each year, Kaweah Health performs more than 2,000 orthopedic surgery procedures, making it possible for patients to stay close to home and receive award-winning orthopedic care in Visalia.
Local orthopedic physicians perform a variety of surgeries:
Rotator cuff repair
Hip surgery
Knee surgery
Ankle surgery
Spine and neck surgery
Whether your condition is acute or chronic, Kaweah Health utilizes safe, proven techniques to help you overcome pain and get back to a healthier life.
Orthopedic Surgeons Deliver a Variety of Services
At Kaweah Health Medical Center, physicians with specialized training in orthopedics perform the surgeries that help people return to everyday life. From sports medicine to spine surgery, our partnership is proud to provide a wide variety of orthopedic services:
Hand, wrist and elbow
Sports medicine
Spine and neck
Total joint replacement
Shoulders
Hip arthroscopy
We also offer additional tools and resources to help educate our patients before and after orthopedic surgery:
Total Joint Camp
Total Joint Class
Quality
Kaweah Health has dramatically lowered infection rates in recent years. In fact, a recent Fresno Bee article noted that every hospital in the entire Central San Joaquin Valley was penalized by Medicare for "excessive infection rates and patient injuries" except Kaweah Health Medical Center and one other hospital. Kaweah Health also remains a designated Blue Distinction Center. For more information, click HERE.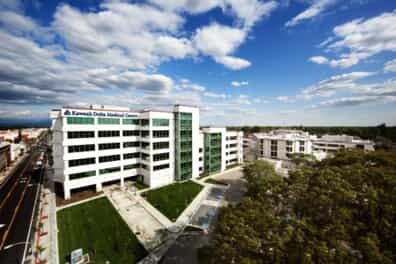 Learn More about Our Team
Visit the following pages to learn more about our orthopedic center:
In Visalia, Kaweah Health's surgical and medical teams partner with local orthopedic surgeons to provide excellent orthopedic treatment for patients from Visalia, Hanford, Tulare, Porterville, Fresno, Bakersfield and surrounding areas.