Learning Experiences
Residents receive two weeks of orientation before moving on to complete assigned rotations. Residents will complete four weeks each in Practice Management, Internal Medicine I, Internal Medicine II, Critical Care I, Emergency Medicine I, Pain Management, Ambulatory Care, and Infectious Diseases. Residents will also complete longitudinal experiences in medical emergency response, formulary management, operational staffing, and completion of a teaching certificate. Each resident selects three elective rotations, four weeks in length. A research project is required to be completed during the program year. Residents are assigned a total of four weeks of project time dedicated to finishing the assigned program components, completing pharmacy operations experiences, and attending ASHP Mid-Year Clinical Meeting during the month of December.
Required Rotations
Pharmacy Orientation
Ambulatory Care
Critical Care I
Emergency Medicine I
Infectious Diseases
Internal Medicine I and II
Pain Management
Practice Management
Electives (choose three)
Acute Care Anticoagulation
Advanced Pain Management
Anemia Management
Critical Care II
Drug Use Management
Emergency Medicine II
Pediatrics/NICU
Medication Safety
Nephrology & Anemia Management
Pharmacy Informatics
Longitudinal
Formulary Management
Emergency Response
Research Project
Service Project (optional)
Staffing (every third weekend)
Teaching Certificate
Staffing Component
Residents will be required to complete staffing hours approximately every third weekend beginning July of the program year.
Teaching Certificate Program
Residents will have the opportunity to complete an online teaching certificate administered through the American Society of Health System Pharmacists (AHSP). This program includes both online didactic video lectures and supplemental on-site discussion with current preceptors. Residents will complete a philosophy of teaching as well as participate in required teaching and preceptor experiences throughout the year to earn their teaching certificate by the end of the program year.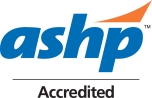 The PGY1 Pharmacy Residency conducted by Kaweah Health in Visalia, California has an accredited status with ASHP.