Theory of Human Caring
Watson's Theory of Human Caring
Nursing theory provides a systematic way of looking at professional practice, describes what nursing is, guides what nurses do, and helps generate knowledge to direct the future of nursing. In 2007 the registered nurses at Kaweah Health selected Dr. Jean Watson's Theory of Human Caring as the foundation for our professional nursing practice environment.
"Caring begins with being present, open to compassion, mercy, gentleness, loving kindness, and equanimity toward and with self before one can offer compassionate care to others" (Watson, 2008, p. xviii).
The following *Caritas Processes are the guiding framework of this theory:
Practicing loving-kindness toward self and others
Being authentically present
Cultivating one's own spiritual practices; deepening self-awareness
Developing and sustaining a helping-trusting, authentic caring relationship
Being supportive of the expression of positive and negative feelings
Creative use of self and all ways of knowing as part of the caring process
Engaging in genuine teaching-learning experiences within context of caring relationship – attend to whole person
Creating healing environment at all levels
Reverentially and respectfully assisting with basic needs
Attending to spiritual, mysterious, unknown dimensions of life-death-suffering;"allowing for a miracle"
*Caritas comes from the Greek word meaning "to cherish, to appreciate, to give special attention, if not loving, attention to." (Watson as cited in Parker, 2001, p. 345).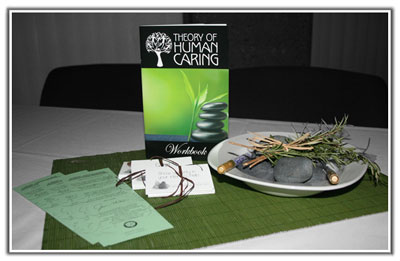 Watson, J. (2008). Nursing: The philosophy and science of caring (Rev. ed.). Boulder, CO: UniversityPress of Colorado.