Keep Fighting Every Day
Author:

Warren Gaines

Date Submitted:

Sep 15, 2020

Category:

COVID-19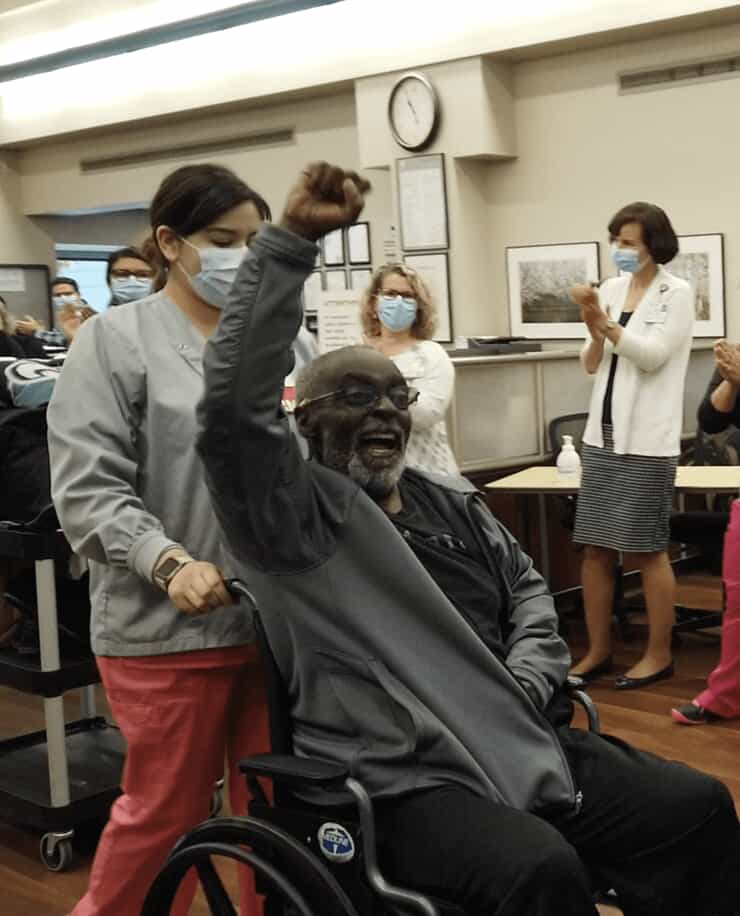 As the world shuttered in mid-March in an effort to prevent the spread of the virus, numbers of COVID-positive patients stayed low in March, Noeske said, until the first wave of admissions came in from area nursing homes in early April. By then, Kaweah Health had secured its own testing platform. Rather than waiting 48 hours for test results from the county, which is a normal turnaround time, the hospital could swab a patient and have results in two hours. The hospital at this point was testing only symptomatic patients, as well as continuing its collection of samples for submission to the county. Kaweah Health was in the same position as health care providers across the nation: progress rested on the availability of supplies such as Personal Protective Equipment (PPE) and COVID-19 tests.
With skilled nursing facility staff falling ill, hospital staff shifted gears, and 50 nurses from Kaweah Health volunteered to work shifts at two local nursing homes: Redwood Springs and Linwood Gardens in Visalia. This involved additional training for these nurses before they deployed to the nursing homes, as well as on-site training to ensure patient and staff safety.
Throughout April, more than two-thirds of the patients admitted with COVID-19 were from these two nursing homes, Noeske said. At this time, patient Warren Gaines was admitted to the hospital for what ended up being a 37-day stay. He was fighting COVID-19, pneumonia, and had suffered a stroke. Warren's discharge from the hospital during a "pop-up celebration" was a day that garnered much excitement. Amid cheers from staff and grateful relatives, Gaines was wheeled down the hospital hallways and encountered a short parade from well-wishers. These events highlighted how much COVID-19 victories mean to medical staff and employees.
"It is more than just a job for them," said Martha Gaines, Warren's wife. "I love the staff's excitement when they brought him out." In a video shared on the hospital's social media channels, Martha surrounded her husband and his wheelchair in a hug, so grateful to see her husband again. Warren said of his battle against COVID-19: "I had to fight for my family, and I'm going to keep fighting every day."
Vigilance is what the community needs now more than ever, Noeske said. The hospital is ready with 82 COVID-19 isolation rooms, and should there be a significant surge, the hospital is capable of housing more than 500 patients.
While many in the community question the need to wear masks and extreme attention to hygiene, Noeske said residents should heed the guidelines issued by the Centers for Disease Control, especially as fall and winter approach. The community will be balancing not only COVID-19 but the return of the flu season. Precautions include washing hands often, wearing face masks, practicing social distancing, keeping gatherings on a small scale, and disinfecting frequently touched surfaces often.
"We need to continue to slow the spread of the virus so that we do not overload the healthcare system," she said. "In the fall, as things reopen and we have family events in the fall and winter, we have to be ready. We are going to put all of our focus to the new turn in the pandemic."
Staying the course will keep families' loved ones healthy. "We're not done with this, and we have months to go," Noeske continued. "Things will be different for a while, but we have to find a way to make this normal for us."