Steps to Recovery
Author:

Adrian Regalado

Date Submitted:

Nov 4, 2022

Category:

Physical Therapy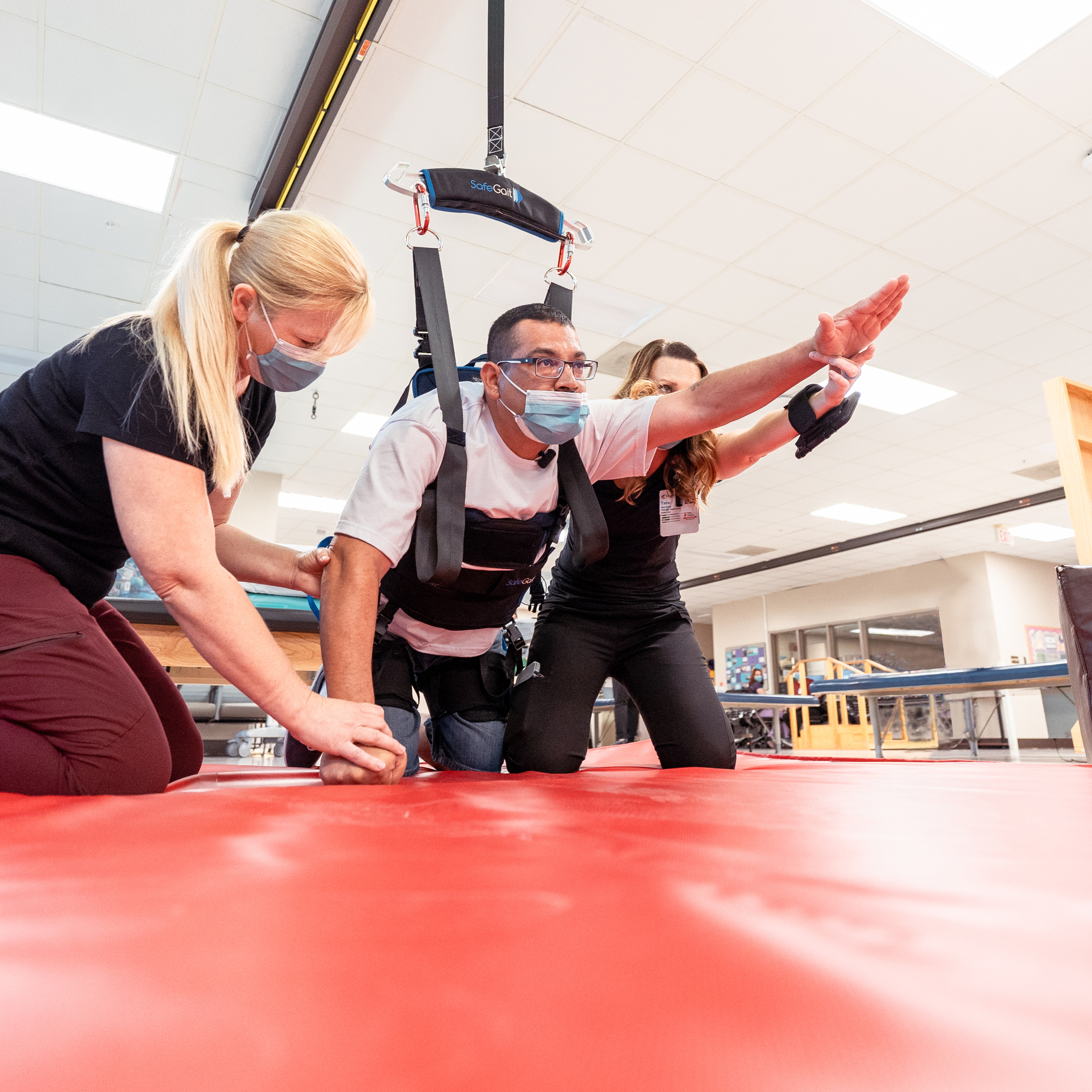 Walking into the Kaweah Health Rehabilitation Hospital therapy room, you are immediately met with inspiration and hope. It is a large, open space, and there is activity everywhere. People are walking, stretching, challenging themselves, and working toward recovery. The atmosphere is one of cooperation, support, and success, with staff highly motivated to get each patient back to where they were. As patients move closer to their goals, one thing is apparent – the compassionate Kaweah Health staff is right there with them, sometimes literally at every step along the way.
On this day, one person stands out among the patients working with weights or relearning how to grab and hold small objects. Adrian Regalado is a patient recovering from a recent stroke and is taking some of his first steps since starting his rehabilitation. But instead of the three or four therapists that would normally be needed to help support his weight, manage his limbs, and provide extra safety, only two are now required.
This is because Adrian is using the newest piece of equipment in the rehabilitation hospital: the SafeGait 360º Balance and Mobility Trainer® by Gorbel, a body-weight support and fall-protection system. Wearing equipment similar to a rock-climbing harness that is connected to a ceiling track, Adrian is supported as he takes each step. For patients learning to walk again, the prospect of falling is very real and can limit a patient's progress.
The SafeGait 360° at Kaweah Rehabilitation Hospital is the top-of-the-line model and was a gift from Kaweah Health Foundation. With just more than 100 feet of track and multiple curves, it is the longest track in the country, and it is the only SafeGait 360° in California. Therapy Supervisor Tara Norman is very excited about the its impact for patients and staff, "It's really increased the ways we have to work with patients in a very safe manner. Patients really like it, too. It helps build their confidence because they don't have to worry about falling."
So far, the physical therapists have used SafeGait 360° to help people with a variety of conditions, though it has primarily been used with the stroke population. People with any form of neurological disorder like Parkinson's, multiple sclerosis, or Guillain-Barre syndrome can benefit from using it. It can also help people with incomplete spinal cord injuries and the amputee population.
Depending on the needs of the patient, the machine can reduce a person's weight by up to 50 percent. Patients are secured in a harness, which is attached to a rectangular control unit connected to a track in the ceiling. Once in the harness, the device works to effectively make patients weigh less. With less weight on a patient's limbs, relearning the complex coordination of walking is a much easier task. SafeGait 360° also helps with other everyday movements like going from a sitting position to a kneeling position or getting up off the ground.
Today, the patient Adrian is in a good mood. He is focusing on some challenging rehabilitation skills like going up a small set of stairs and lifting each arm while on his hands and knees. He has made some progress and feels positive about the results. Throughout the session, the therapists encourage him and know how to push him to achieve his recovery plan. "The SafeGait 360° technology has allowed us to progress these patients more quickly. We can do things safely with the patients in the first week of therapy that would have taken two or three weeks to do in the past," Tara explains.
As Adrian's rehabilitation journey continues, he shares his gratitude, "When I first came here, I was bad – in a wheelchair. And my therapists really helped me. So, I'm grateful for that. I really am."
Adrian's wife, Elizabeth Regalado, is also grateful, "He's progressed a lot so far. At first, he couldn't hold himself up without buckling, but now he can pretty much stand on his own." And she's very hopeful for the future, "The doctor told him he can fully recover, it just depends on how hard he wants to work on it. He's determined, and his therapists are going to keep pushing him to get there."
There is a large team of more than 20 staff at the rehabilitation hospital consisting of physical therapists, physical therapy assistants, occupational therapists, speech therapists, rehab aides, and office support staff, all of whom support the rehabilitation goals of the many patients who come here.
The team's investment in their work is apparent in the relationships they have and the quality of their work. "I've been here for 14 years because I really love it," Tara says. "The biggest part of that is our team – we are very collaborative, helpful, and we are always learning from each other because we want to be better. Our patients really benefit from it."
As with many jobs in a healthcare setting, there can be many challenges, but there are just as many rewards. "A lot of times we work with patients going through the worst time in their lives," shares Tara. "But they are incredibly grateful for how we help and support them. Many of them keep in touch and visit us after they leave. It makes you feel really good about what you do. You can ask any of our team members – they get a lot of joy working here."