Building Strength, Restoring Health
Date Submitted:

Apr 13, 2023

Category:

Physical Therapy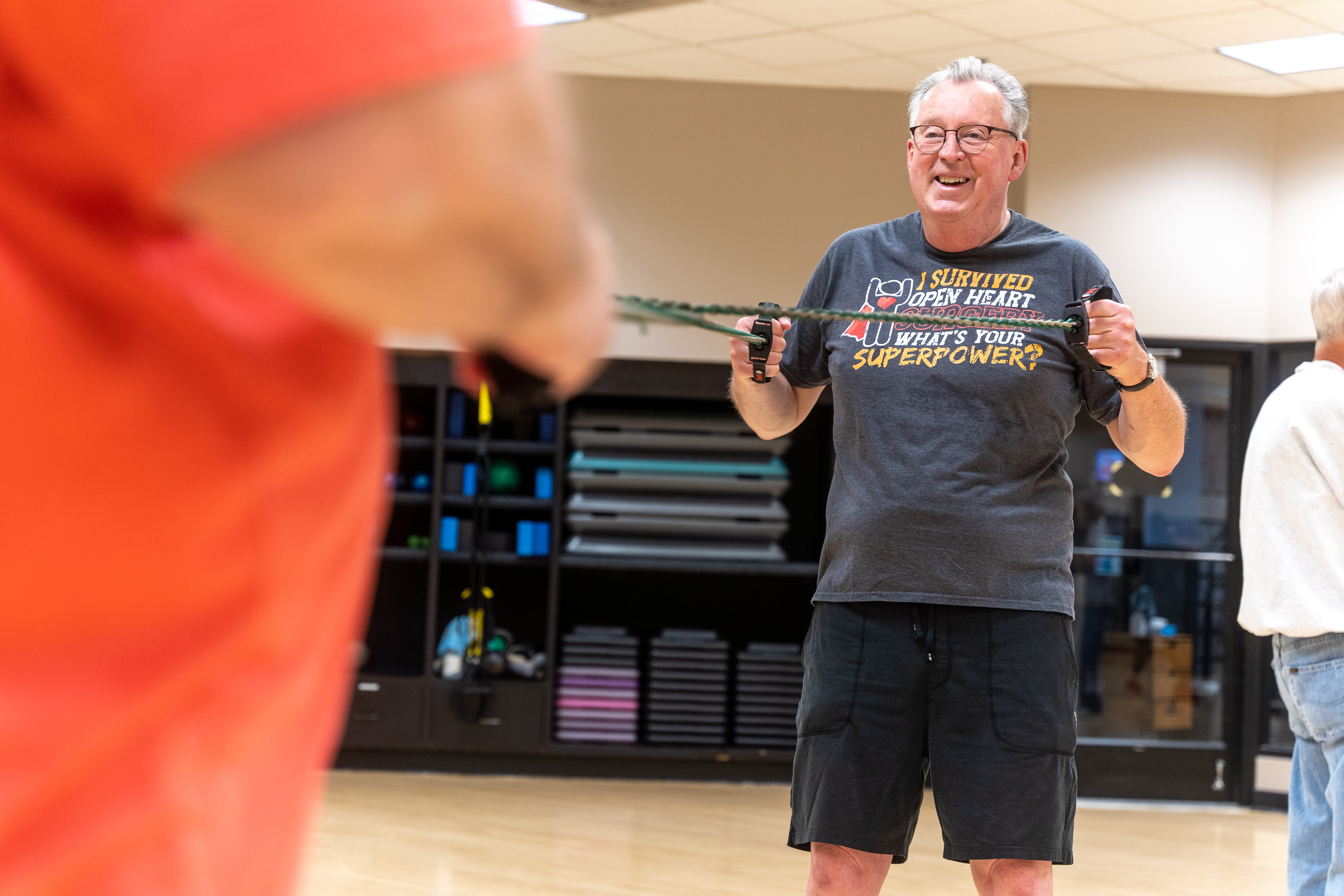 Robert Dempsie began his career 33 years ago as Deputy District Attorney in Tulare County, and retired as Assistant District Attorney in March 2022. Robert had just announced his retirement when he received some startling news from his doctor — he was going to need open-heart surgery. And while the timing was bad, the outlook was good. Robert's bypass surgery was successful, and he was soon on the way to recovery. As part of his recovery plan, he started attending the Lifestyle Fitness Center after completing the cardiac rehab program at Kaweah Health Rehabilitation Hospital in September 2021. It was a difficult transition for him at first, "When you start to slowly push yourself after a major surgery like that, there is a lot of fear and uncertainty," Robert says. "But my confidence level grew tremendously. I worked with three staff who oversaw my sessions. They monitored my heart rate, evaluated my routine, and added things when I was ready." Recently, Robert received a report from his cardiologist that his heart function had improved because of his dedication to exercising. He also attends the Healthy Heart program three days a week and does an independent program two days a week.
Kaweah Health Lifestyle Fitness Center is Visalia's largest gym, filling two stories and offering an impressive range of facilities, classes, and services to thousands of happy and healthy members. It is also the official gym of the Visalia Rawhide baseball team, and you can find members of the team working out there regularly. You might even see professional boxer and 2020 Olympic Silver Medalist Richard "Kiki" Torrez training for his next fight! While features like the indoor track and pools are some of the best around, one thing that makes the center stand out even more is that it is the only medically-based fitness facility in Visalia. That means there are educated, certified, and experienced fitness professionals available to help members achieve their goals. Members can have their exercise programs designed by an exercise physiologist specifically for their health and fitness needs, with complimentary wellness checks, fitness profiles, and program designs. Located near the main artery of the city, the gym is easily accessible and has been helping people achieve their fitness goals for more than 30 years.
Lifestyle Fitness Center was originally created with the purpose of providing people who were exiting rehab therapy with a place where they could continue exercising and pursue healthy living after rehab. From this original idea, it has grown into a premier fitness facility that caters to people of all ages, fitness levels, and health goals. It offers referral programs like Healthy Heart, Breathing Easy, and A1 Care, which focus on addressing common health problems and aim to keep people healthy. Patients recovering from open-heart surgery or other heart procedures take part in the cardiac rehab program at Kaweah Health Rehabilitation Hospital. The program has helped many people recover their heart function and lead healthier lives. It includes exercise, education, and counseling and can help patients recover more quickly and reduce the risk of complications. For cardiac rehab patients, regular exercise offers huge benefits like improving cardiovascular fitness, strengthening muscles, and promoting overall health and well-being.
Larry Marconette is another open-heart surgery patient who began coming to Lifestyle Fitness Center in November 2018 as part of his recovery plan. After completing the cardiac rehab program, he got COVID-19 in 2020 and became very ill, and ultimately ended up in Kaweah Health Medical Center. During his stay, Larry became diabetic and began requiring insulin for the first time in his life. Upon Larry's discharge, the doctor recommended he start exercising regularly as part of his recovery. Larry began going to Lifestyle Fitness Center and joined the Healthy Heart and A1 Care classes to help with his strength. With dietary changes and exercising five days a week, Larry was able to come off insulin and is feeling like himself again. "I'm very grateful to the instructors and staff who've helped me get to where I am today. They gave me a lot of support and showed me how to live a healthier life." Larry also enjoys the camaraderie he's found in the classes, "With the Healthy Heart class in particular, you get to know everyone because you're all supporting each other in getting better." Larry still goes to the gym five days a week as part of Lifestyle's Healthy Heart class every Monday, Wednesday, and Friday, and A1 Care class every Tuesday and Thursday.
It was many years ago when Tammy Farrell came down with an acute case of valley fever, and it has been a long road since then to feeling better. Tammy completed the pulmonary rehab program at Kaweah Health Rehabilitation Hospital. As part of her journey, her doctor recommended she join a gym as a way to strengthen her cardiovascular and pulmonary health. So, she joined Lifestyle Fitness Center in February 2022 and began attending the Breathing Easy class, which focuses on stretching and cardio. After one year of dedicated attendance, three times a week, Tammy notices a huge difference. "I feel so much better, and my lung function has improved measurably," she says. "The staff is really helpful and reassuring, regularly checking my oxygen and pulse, answering any questions I have. They keep it really clean too, which is important to me." Tammy is especially pleased with how her day-to-day life has improved. "I can do more around the house now and be more active than before, which has made things so much better," she says.
With modern equipment, a diverse range of fitness classes, personal training options, and a welcoming atmosphere, the gym is supporting the health of the whole community. Whether you are a seasoned athlete or just starting out on your fitness journey, the Lifestyle Fitness Center has something to offer just about everyone.
Learn more about Lifestyle Fitness Center at TheLifestyleCenter.org.