Getting Back in the Game
Date Submitted:

Apr 13, 2023

Category:

Orthopedics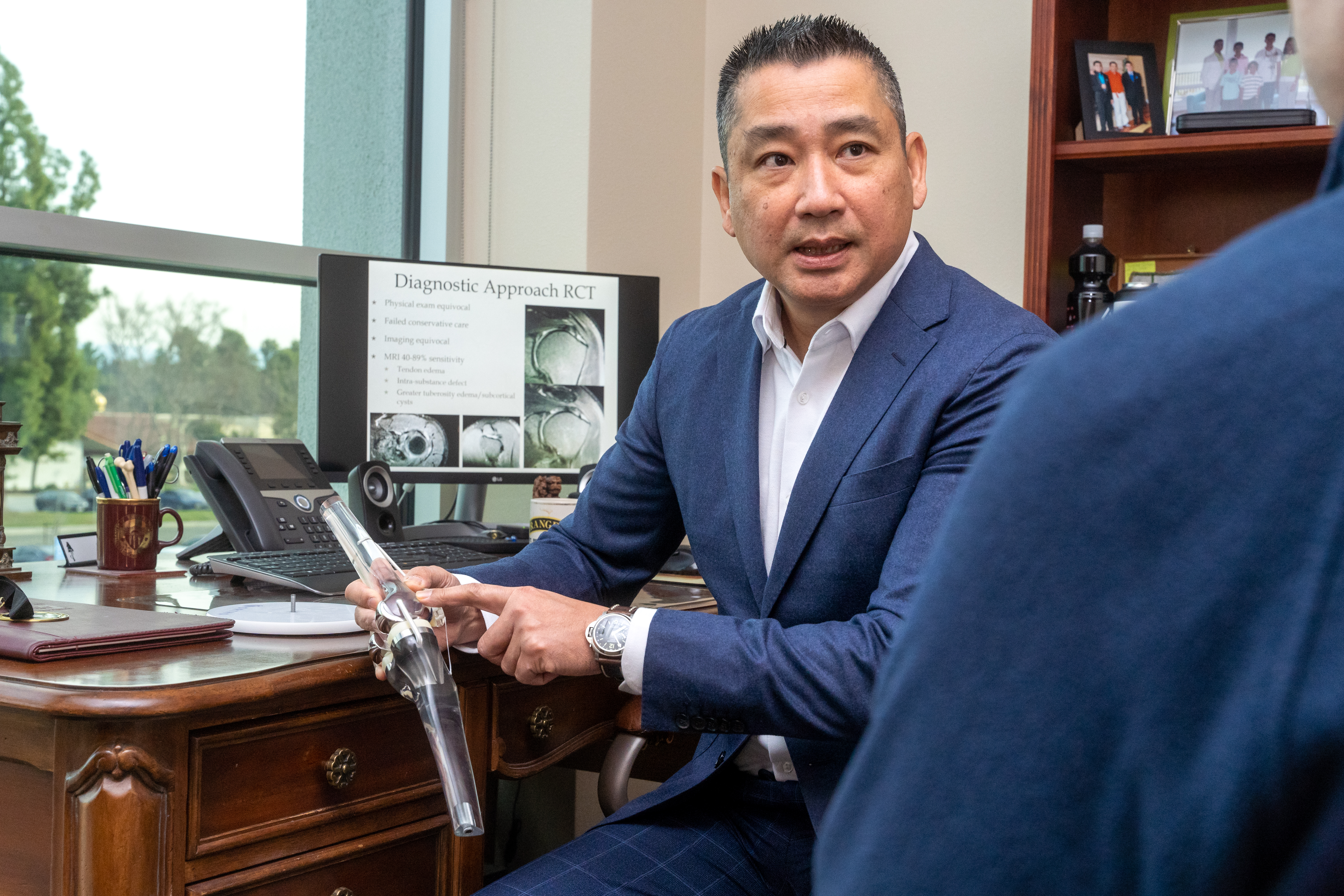 Life can inflict wear and tear on the body, and fortunately we can recover from many of the bumps and bruises encountered along the way. But sometimes, injuries happen that will not heal correctly on their own and may require medical treatment. The most common places people experience damage are the knee, hip, and shoulder joints. Thanks to advances in science and medicine, fixing these joints through orthopedic surgery has become a common practice, using amazing technology and techniques that often get patients back home on the same day as their surgery.
Darin Pace is a high school principal in Exeter, California and a lifelong athlete, part of many team sports including high school football, swimming, and track, as well as NCAA Division 1 football and a little bit of rugby at the University of Oregon. As with many athletes, he has suffered his share of injuries. A few surgeries would fix some of the problems, but over time he started having trouble with his knees. His first knee replacement was done in San Diego, which seemed like a good idea initially, but after having to travel from Exeter to San Diego for several follow-up appointments, he was not so sure. "It really made things more difficult in my recovery," says Darin. "So, when it was time to replace the other knee, I researched the doctors here locally and found there were a lot of great options."
Darin chose Bruce Le, DO, MS, one of the many skilled orthopedic surgeons at Orthopaedic Associates who work with Kaweah Health. Dr. Le is trained in sports medicine and treats patients of all ages, from teens to people in their 90s. He specializes in shoulders and knees, providing both joint repair and joint replacement. He remembers Darin's case, "Normally we try to repair joints, if possible, but Darin's knee was very bad. He is a perfect patient though — an athlete, motivated to maintain an active lifestyle, great attitude. He was really dedicated to the process."
"When I first met with Dr. Le, I told him I wasn't ready to slow down — I wanted to stay active," recalls Darin. "Dr. Le flew to Italy and found a knee replacement system that fit my lifestyle." After surgery, Darin did three months of physical therapy at Kaweah Health Therapy Specialists before easing back into his favorite activities.
Dr. Le stresses the importance of knowing his patients, "Joint replacement isn't one-size-fits-all, so I wanted to make sure Darin's implant was right for him. I visited the implant's manufacturer in Italy, inspected their processes, talked to their engineers, and learned their philosophy."
Today, Darin is back living an active life. "I'm able to do the things I couldn't do before like play basketball, volleyball, and play tennis with my wife. I can still run, too. It's given me the opportunity to really take my life back," says Darin.
Kaweah Health takes pride in providing high-quality orthopedic surgery services to patients needing help with their joints. Each year, more than 2,000 orthopedic surgery procedures are performed by skilled surgeons specializing in a range of procedures like joint replacement surgery, spinal surgery, and sports medicine for patients from Visalia, Hanford, Tulare, Porterville, Fresno, Bakersfield, and surrounding areas. Kaweah Health's facilities are state-of-the-art, and surgeons use advanced techniques to ensure the best possible outcomes for patients. In addition to surgical services, Kaweah Health also offers pre- and post-surgical care, including a comprehensive, pre-operative joint replacement class, rehabilitation therapy, and physical therapy. Patients can trust they will receive comprehensive and compassionate care during and after their orthopedic procedures.
Not everyone knows what joint replacement surgery involves or if it is right for them. The surgical procedure to replace a damaged joint, called arthroplasty, oftentimes uses artificial parts made of metal, ceramic, or plastic. It's typically done when a joint is severely damaged and causes chronic pain and limits movement. The most common joints replaced are hips and knees, but shoulders, elbows, and ankles can also be done. Although joint replacement is a common surgery with good outcomes, it is not for everyone. There are many factors that can make someone an ideal candidate, so consult with a doctor about whether this surgery might be an option.
Many people are interested in joint replacement because it can reduce pain, improve mobility, and even improve overall health and well-being. Sometimes, chronic pain can lead to a decreased sense of well-being and even increase the risk of developing other health problems. For patients experiencing a lot of pain, joint replacement surgery can often improve their lives beyond the scope of painful joints.
Kaweah Health is proud to support a robust orthopedic surgery program, significantly improving people's quality of life. If you or someone you know is experiencing joint pain and/or limited mobility, contact a doctor today and see if joint replacement surgery is an appropriate treatment option.
Learn more about orthopedic procedures at KaweahHealth.org/Ortho.