Doug Henderson
Author:

Doug Henderson

Date Submitted:

Jul 12, 2017

Category:

Spine Injury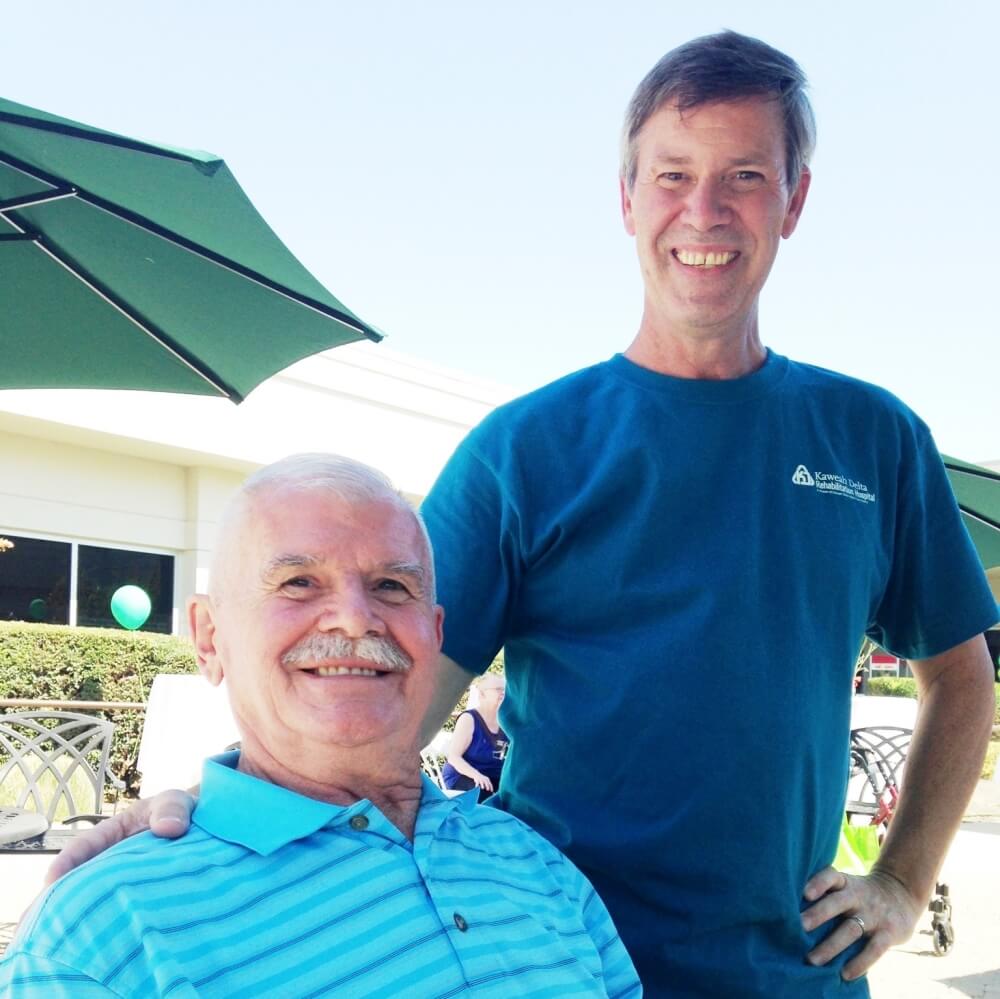 When Doug Henderson, 68, of Exeter, accidentally stepped off of a roof on April 9, 2012, he had no idea that he would step into an entirely new life and unique purpose. As he lay on the ground in the moments after his fall, thoughts of Mary, his wife of 51 years flooded his mind, "How am I going to take care of Mary?" Doug said.
Doug's injuries were so severe – he had two shattered vertebrae, 15 broken ribs, a lacerated kidney and a damaged spinal cord – that he was airlifted from Kaweah Health to a level I trauma center in Fresno. He was told that he would never have any movement or feeling from his belly button down. He wrestled with the news for two days in his hospital bed, but became determined to recover. He made his goal to walk again.
After six weeks in the hospital, Doug began rehabilitation and physical therapy in Fresno because a Fresno therapist told him Kaweah Health didn't treat spinal-cord injuries. After a month of driving to Fresno, the Hendersons discovered that was incorrect; Doug could receive rehab and therapy at Kaweah Health, much closer to home. Ever since, Doug has been at Kaweah Health where he continues rehab and motivates other patients.
"It's the best thing that has happened since the accident. To go there and meet the people I've met and to work with them," said Doug, who's done everything from therapy in a gym to a pool at Kaweah Health Rehabilitation Hospital.
When Doug began working with Robert Dahill, a Physical Therapist for Kaweah Health Outpatient Rehabilitation Services, a relationship formed that went beyond physical therapy. With Robert's guidance, Doug worked on rebuilding his muscles and has regained feeling from his legs to his feet. "Robert is as good as they get. He listens. He always checks in before jumping in. He asks what I want to do and he understands where I'm at," Doug said.
Doug's determination, along with the pair's rapport, led Robert to call on Doug when he had a patient who had shut down, emotionally and physically. Doug interacted with the patient, showed what he was capable of, and continued to mentor and motivate the patient, who eventually made a full recovery.
That was just the first of dozens of interactions that Doug has had with Kaweah Health rehabilitation patients, and others locally, on their road to recovery. For motivating and inspiring others, Doug was
recently awarded Kaweah Health's "Rehab Candidate of the Year Award." The recognition caught Doug off guard, but his physical therapist said it was well-deserved.
"Doug has a vast pool of life experience, and he can connect with people on many levels," Robert said.
Along with helping to inspire patients, Robert and Doug have established a monthly support group for spinal cord survivors at the rehabilitation hospital. "Some of the people I work with don't have the support like I had so when they start seeing support, it kind of gets their attention," Doug said. "Once you get their attention, you don't have to ask for it again. It's like they wake up and get it."
Doug goes the extra mile to help patients with court appearances, access to needed physical therapy equipment, and talking about sensitive issues, like bowel and bladder issues after spinal-cord injuries. "I don't lie or glamorize it. I answer their questions and tell them what has worked for me," Doug said.
There's no doubt about it, Doug's wife Mary says, he is a motivator for people with disabilities.
"He tells them, 'See what I can do? You know what I used to be able to do? Nothing. So it can be done,'" she said. "He just has a way with people."
Doug has lost count of the people that have helped him along the way: there's his therapist, his wife and his children, and countless others, but he's needed every one of them. To date, Doug still spends about an hour every morning doing a therapy program on his own before he starts his day.
While the road to recovery is long, Doug keeps up his motivation and strength, always working toward his goals and always willing to help others towards theirs. And while Doug and Mary's life isn't the same as it was before the fall, they have a new life. They recently checked an item off their bucket list - a 10-day cruise to Alaska after celebrating their 55th anniversary – and they say they are looking forward to checking off more items soon.
Spinal Cord Injury Group
* Third Wednesday of the month, 5 p.m., Kaweah Health Rehabilitation Hospital - Gym