Charles Cooper
Author:

Charles Cooper

Date Submitted:

Apr 5, 2017

Category:

Orthopedics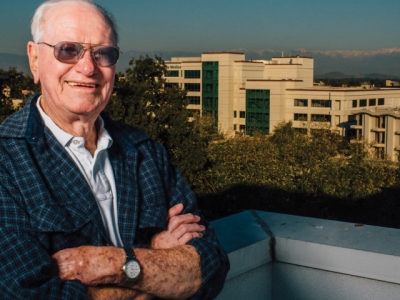 Knee Replacement Surgery
Charles Cooper, of Exeter, needed a knee replacement. But when he chose Kaweah Health, his local hospital, he didn't know it was nationally recognized or among the top 10 percent in the nation for orthopedic surgery.
Kaweah Health was recently recognized by Healthgrades, a leading national online resource for comprehensive information about physicians and hospitals. For the second consecutive year, the medical center has received the Orthopedic Surgery Excellence Award. "Our partnership with orthopedic surgeons is pointing in the right direction, as this distinction is a benchmark of our department's efforts to continuously improve the quality of care and outcomes of our patients," said Jag Batth, director of Orthopedic Services. "We are appreciative of a reputable agency validating our quality of work, which compares us to other hospitals, indicating the higher standard of care we offer in our region."
Last year, it was determined that Charles would need surgery to improve his limited movement and resume normal activities of daily living. With the assistance of Dr. James Guadagni, one of eight orthopedic surgeons practicing at Kaweah Health, Charles benefited from the medical center's award-winning orthopedic services. For, Kaweah Health has received the five-star recipient award from Healthgrades. Reflecting on the whole process, I had a very positive experience and I know others will too, Charles said.
What builds Charles' confidence in Kaweah Health is the positive outcome and quality services he has consistently received with his surgery and at Therapy Specialists, a division of Kaweah Health offering physical therapy. "The therapists were really great," Charles said. "They all were very supportive of getting me back to my normal self, and I have."
Benton Duckett, director of Surgical Services at Kaweah Health, hopes more local residents will discover the scope and quality of surgical services available at Kaweah Health. "I think if the community knew what we could do here, they wouldn't leave town for many of these surgeries that we do so well," he said. "People want to feel good and, we're here to make that happen. This is a great place to have surgery."
As Kaweah Health continues to impress patients with the benefits of quality care and advanced technology, they demonstrate to people like Charles that their hometown hospital delivers more than they might expect