Mobile Applications
Baby & Me Maternity App
Our Baby & Me app allows expectant moms to track important pregnancy milestones, keep track of appointments and other lists, track baby's kick and contractions and much more. We are excited to walk with you through this wonderful journey of motherhood and celebrate with you as you welcome your own new addition.
Available on iTunes and Android devices.


Key Features:
Track important milestones
Photo journal of your baby bump
Contraction and kick timers
Track diapering and feeding
Vital information on labor and delivery
Class and Tour schedules
---
KAWEAH HEALTH SURGERY APP

Do you have an upcoming surgery?
Preparing for surgery can be difficult and overwhelming. You may be getting a lot of information but know that the Kaweah Health Medical Center Surgery Team is here to help you throughout your journey. We've created this app to give you the information you need, quickly and easily, on any mobile device.
Key Features:
Customized to your surgery date
Appointment Reminders
Surgery Milestones
Dietary Information
Medication and Pain Trackers
Advanced Directives
Surgery Preparation Instructions
Enhanced Recovery Instructions
Download today on Apple or Android devices
---
Kaweah Health Mobile App
One App. A World of Answers.
Download Kaweah Health's app today and unlock a world of answers to you commonly asked questions.
Our app provides access to:
Parking Information
Maps and Directions
Our Services, Hours and Contact Info
Events and Classes
Local Restaurant Listings
Medical Records Access and more!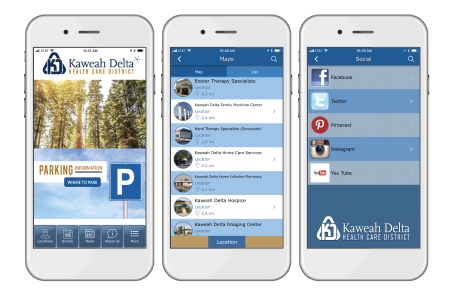 Download Now: