Susan Geis
Author:

Susan Geis

Date Submitted:

Sep 19, 2017

Category:

Cancer Care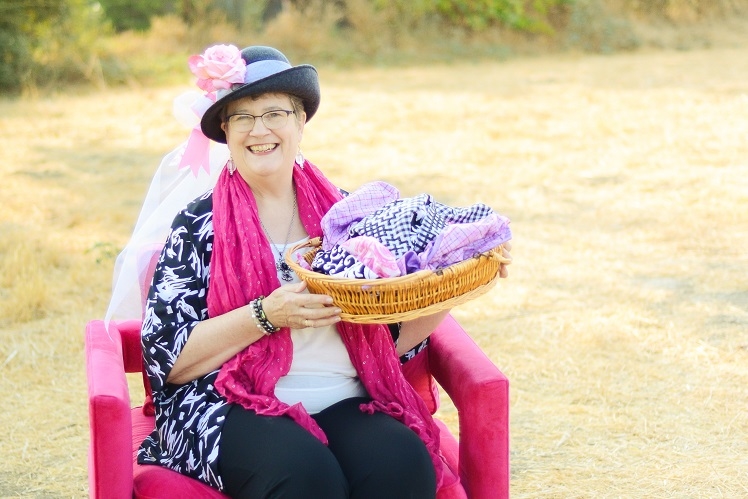 Susan Geis was a hot and sweaty mess. She had just spent hours pulling weeds in her new Visalia home on a warm October afternoon when she came inside to clean up. Before jumping into the shower, Susan noticed a solid, swollen, warm and pink lump on her left breast near her armpit.
Considering Susan had received a clean mammogram check eight months earlier in February 2015, the alarming discovery caught her offguard.
"I looked at myself and said, 'What? Oh my gosh,'" said Susan, a 68-year-old mother of two and a grandmother of four. "It was like overnight that thing flared up."
Susan immediately went to the office of her general practitioner, Dr. William C. Holvik, M.D. An ultrasound was ordered that indicated cancer.
Susan was then referred to Dr. Russell Dounies, M.D., who took a biopsy and confirmed the news: Susan had HER2-positive breast cancer, which had already spread into six of her lymph nodes. At that point, Susan had a big decision to make: where to seek treatment.
While some suggested Susan see a doctor in the Bay Area or in Los Angeles, Susan didn't agree.
"But I said I've heard there are good ones here. I love Visalia and I wanted to give the ones in Visalia a try," said Susan, a retired instructional aide with the Visalia Unified School District. "I had wonderful treatment, and everyone was compassionate and helpful."
In particular, Susan had heard good things about Dr. Robert Havard Jr., M.D.
So three weeks after initially discovering the lump, Susan began chemotherapy treatments under Havard's care at Sequoia Regional Cancer Center.
Susan underwent six rounds of chemotherapy, one every three weeks for a total of 18 weeks. It was a hair-losing and physically-draining process that was made bearable by the support of her husband of 48 years, Wayne, the compassion of Grace Pagh, R.N. and the personal touch of Dr. Havard.
Susan's nurse Grace said her patient's attitude had a lot to do with her success. "It's not an easy process, but she came in with a positive attitude. She was always upbeat and had a great support system with her husband," Grace said.
Eventually, Grace said, Susan like all her patients became another member of the family. "We start off as patient/nurse, then we become friends and then we become like family through the process."
Susan said her husband Wayne was always there for her; he even put off back surgery to help care for his wife. And, Dr. Havard provide chairside care from her very first treatment, while her nurse Grace was always there with a heated blanket, snacks or hot chocolate, anything she could to make the experience more tolerable.
"They all cared so much. Grace and every single doctor I had," Susan said. "They weren't like, 'I've got two seconds' and then run out. They always had time, love and compassion. Those are the kind of people you need to treat cancer."
Three weeks after wrapping up chemotherapy, Dr. Dounies surgically removed what was left of the lump on Susan' left breast, which had reduced to the size of a small raisin, and 10 lymph nodes.
As Susan had done throughout her battle with breast cancer, she approached surgery with a positive attitude and humor.
"I told [Dr. Dounies] that when I do my [boudoir] photos, there better not be any scars," Susan said. "And he cracked up. I tried to be kind of crazy through this whole thing."
Susan said Dr. Dounies' work impressed her. "I ended up with one little scar," Susan said. "Other than that, you can't even tell I had surgery. That's how beautiful a job he does."
The last step in Susan's cancer battle was 33 radiation treatments with Dr. Youssef Hanalla, M.D.
Following the radiation treatments, the jovial Susan immediately considered herself a survivor. Doctors typically do not make that kind of pronouncement until a patient has gone five years without signs and symptoms.
"I'm not even supposed to say I'm a cancer survivor for three more years," Susan said. "But I say, 'No.' I'm surviving right now because I'm not doing treatments or have any lumps. The doctors just laugh at me cause they never know what to do with me."
Susan said her decision to use Kaweah Health not only worked out for her, but for her husband, too.
Wayne Geis had been considering back surgery with a doctor in Fresno, who Susan says would have "filled him full of metal." But on the recommendation of several members of the staff at Sequoia Regional Cancer Center, Wayne decided to use Dr. Parley Madsen III, M.D. Wayne had successful surgery, without the need for rods in his back, on the day of Susan's final radiation treatment.
"If it hadn't been for my cancer, we wouldn't have found the best doctor in the world for him," Susan said.
Before her diagnosis, Susan and husband Wayne were "people who love serving." They were very active with First Christian Church of Visalia, working with kids, singing in the choir and often visiting people in rest homes and hospitals. Susan said little by little, she's re-immersing herself in church activities and helping others.
She recently organized a 50-year reunion for her former classmates at Lemoore High School. Her next major project will be making reversible, cloth hats to give for free to cancer patients who have lost their hair.
"I remember what it was like not having hair," Susan said. "You feel so ugly. You don't feel like a woman anymore. I'm trying to be a blessing and make a difference. That's what it's about. God let me live. I have even more compassion now, and I want to make these hats to help women look good."