Felicia Mendoza
Author:

Felicia Mendoza

Date Submitted:

Jul 19, 2018

Category:

Cancer Care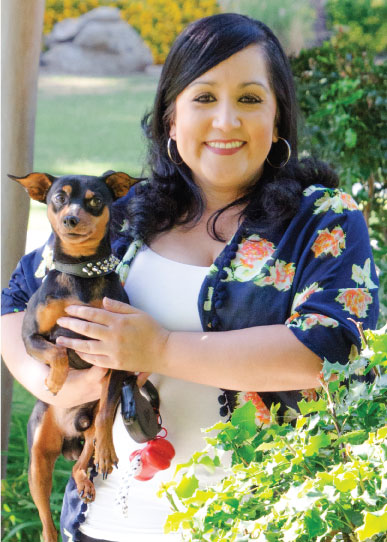 Felicia's journey started in June 2014 when after eight years in San Diego, she moved back to Visalia. In San Diego, she had been diagnosed with an overactive thyroid, but she was still losing weight and was starting to have heart palpitations. She sought help from the now late endocrinologist Dr. James Mohs, M.D., in Visalia.
"He was honestly my guardian angel. He did everything the other doctors should have," said Felicia, noting that on her first visit, Dr. Mohs did a scan of her neck that detected two nodules or lumps in the gland at the base of her neck. He ordered blood work and referred her to a surgeon. "You would think in a big city like San Diego, a doctor would have known how to help me, but it wasn't until I saw Dr. Mohs that I felt at ease. He was a really good doctor."
After surgery by Dr. Abiy Meshesha, M.D., Felicia was "excited to feel normal again," but instead, she learned that the nodules were cancerous. It was recommended that she preventatively remove the rest of her thyroid. "I said, 'Do whatever you have to to keep me alive.'"
Felicia underwent radiation therapy at Kaweah Health Medical Center and could not have visitors for three days; the radiation in her body could harm others. She was surprised when Radiation Oncologist Youssef Hanalla, M.D., came into her room. "I told him I couldn't have visitors. He said, "I'm not worried about that; I'm worried about you.' I found that very comforting," she said.
Twice a month for a year, Felicia drew strength from her visits with Dr. Hanalla and registered nurse Julio Sanchez at Sequoia Regional Cancer Center. "They always said, 'You're going to get through this, and we're here to help you," she said.
Felicia's family was also there for her, including her nieces Taylor, 4, and Riley, 7. Felicia suffered a miscarriage during her initial diagnosis, so she cherishes her relationship with her nieces. "I do look back, but at the same time, I look at how far I've come," she said. "I'm alive. I have two nieces, and I'm in their lives and they are very close. I pulled through everything that was thrown at me."
The scar on Felicia's neck has signaled others with thyroid cancer to ask her about her experience. "I tell them, 'Keep your circle positive, have a good support system and go in with a positive attitude,'" said Felicia, who has been in remission since 2015.