PGY1 Residents
Jared Caballes, MD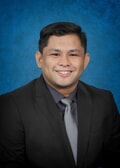 Medical School
University of the East Ramon Magsaysay Memorial Medical Center Inc.
Hometown
Visalia, California
Why did you choose FM?
Family Medicine gives me the opportunity to form lasting and meaningful connections with each of my patients and allows me to be the same physician that cares for them during the multiple stages in their lives.
Why Kaweah Health?
Throughout my life, I've moved around numerous times and Visalia is the first place I've ever been able to call home. After moving away for college and medical school, I knew I wanted to return to the Central Valley and serve the community that has graciously given to me over the years. Volunteering at Kaweah Health gave me the opportunity to meet and work alongside countless healthcare workers who share the same passion for giving back to the community and made me realize that this is truly the place for me.
Hobbies
Dancing, video games, and drinking boba milk tea
What is the most important advice you have for patients?
Celebrate all successes, no matter how big or small. Adopting a healthier lifestyle isn't something that happens overnight, but instead requires many steps and small victories towards building a healthier you.
Yesenia Calderon, MD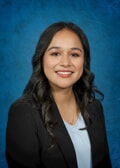 Medical School
Charles R. Drew University/UCLA
Hometown
I was born in Guanajuato, Mexico and grew up in Shafter, CA
Why did you choose FM?
Family Medicine gives me the privileges of serving entire families and individuals at different stages in life.
Why Kaweah Health?
Kaweah Health would allow me to come back and serve my home community in the Central Valley, which is rich in culture and diversity. Training at Kaweah would give me the opportunity to learn at a well-rounded and strong program that is also passionate in serving the underserved communities in the area including immigrant farmworkers.
Hobbies
I enjoy spending time with my family including watching Netflix shows and long conversations after dinner. I also love playing with my dog, Luna!
What is the most important advice you have for patients?
Ask all the questions! I want my patient to feel empowered and confident in taking charge of their health.
Rosa Chabok, DO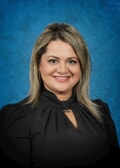 Medical School
Debusk College of Osteopathic Medicine (LMU-DCOM)
Hometown
Shiraz, Iran and Toronto, Canada
Why did you choose FM?
I like the continuity of care, outpatient work and treating variety of problems that comes with family medicine
Why Kaweah Health?
Two things are of utmost importance- supportive atmosphere and quality training. At Kaweah Health I can see vast pathologies in unique patients and work with supportive, uplifting team of faculty and residents
Hobbies
Weight training, HIIT, Cross-fit, Drawing/Painting, Writing poetry, Gardening, Cooking and Design
What is the most important advice you have for patients?
My patients will receive the most compassionate care under the most recent guidelines and practices while in the hospital and clinic. My focus will be disease prevention and treatment at every visit/discharge. My advice for patients would be to attain a healthier lifestyle, eat healthier and exercise regularly to reduce the risk of inflammation to help prevent cardiac disease, diabetes and cancer.
Charles Gaccione, DO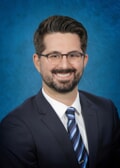 Medical School
Des Moines University
Hometown
Monterey, California
Why did you choose FM?
I chose Family Medicine because it offers a unique skillset that allows one to have a finger on the pulse of the community in which they practice, both literally and metaphorically! The specialty's tenets of advocacy, continuity of care, and working with all ages and stages of health make for an exciting, fulfilling future ahead.
Why Kaweah Health?
Kaweah Health's Family Medicine residency program stood out to me in part because of its community-driven mission, FQHC exposure, opportunities to work alongside resident peers from fellow training programs, and the kindness and compassion demonstrated by all involved in the program!
Hobbies
Reading fiction, growing orchids, playing tabletop board and role-playing games, dancing with enthusiasm if not skill to any audible rhythm, and catching some sunshine on a hike whenever possible.
What is the most important advice you have for patients?
Please don't hesitate to speak up if you feel that you or your loved one is not being heard – equal communication is a key part of positive health outcomes.
Andrew Hanalla, DO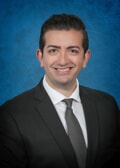 Medical School
University of Pikeville Kentucky College of Osteopathic Medicine
Hometown
Visalia, CA
Why did you choose FM?
The versatility of family medicine, and the ability to impact individuals along with communities.
Why Kaweah Health?
To serve my hometown community
Hobbies
Playing and watching basketball, traveling, beach, trying new food.
What is the most important advice you have for patients?
There is no such thing as a dumb question
Eric Kuehne, MD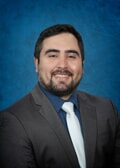 Medical School
Albany Medical College
Hometown
San Jose, CA
Why did you choose FM?
I chose FM because I enjoy making impactful connections with patients and helping them achieve their goals. As FM physicians, we are trained to be in a unique position to care for our patients beyond the physical medicine. Additionally, FM is the gateway to many other educational opportunities as I'm interested in sports medicine, behavioral health, and integrative/lifestyle medicine as well.
Why Kaweah Health?
My experience during my interview and…the people! Especially with virtual interviewing, sometimes you just have to go with your gut, and I felt right at home and knew that I would be well supported in my journey of becoming the type of physician that I strive to be. Kaweah also felt like a close-knit program that truly exemplified care for the needs of their community while aiming to bridge the gaps in the healthcare system, especially with our Latino communities.
Hobbies
I enjoy spending time with my wife and baby boy, playing soccer, watching sports and Family Feud, playing video games, finding good eats, and going on road trips with our dog.
What is the most important advice you have for patients?
When in doubt, reach out. You are your best advocate, and we are here to guide you along every step of the way.
Quan Tran, DO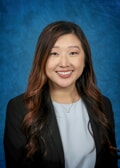 Medical School
Touro University California
Hometown
San Francisco, CA
Why did you choose FM?
I am seeking diversity in patient population and pathology because I do not want every day to look the same! I find it amazing how family medicine allows me to train in adult medicine, pediatric health, women's health, geriatric health, behavioral health, sports medicine, procedural medicine, and more. I also want the knowledge and skill set to be able to address and treat the most common medical issues to help a wide range of people. Friends, family, and acquaintances already open up to me about their medical history. It is fulfilling to be able to counsel them and humbling to already have that level of trust. To be able to help anyone who comes my way is a blessing and privilege.
Why Kaweah Health?
Growing up as a first-generation American from a low socioeconomic background came with its challenges but has given me the philosophy to help people with the greatest need. This has ultimately driven me to a residency program that will allow me to work with an underserved population in California. It was important for me to find a program that is actively growing and making changes to prioritize resident education, training, and wellness.
Hobbies
Drawing, painting, woodburning, karaoke, dancing, jogging, hiking, trying new types of chips, entering online giveaways (I have won things such as scrubs, makeup, concert tickets, and more!)
What is the most important advice you have for patients?
Our habits and surroundings both have huge impacts on our health. They can be difficult to change for the better, but we need to recognize our ability to have the motivation and power to improve our health. Everyone deserves to have a doctor to support them in this!