Steve "Doc" Blizzard
Author:

Steve "Doc" Blizzard

Date Submitted:

Apr 5, 2017

Category:

Orthopedics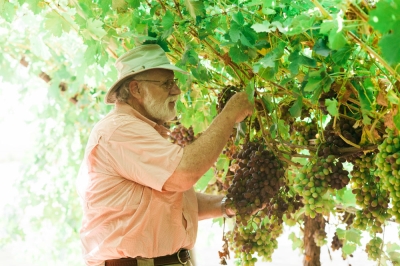 Knee Replacement Surgery 
When you are responsible for directing overall farming operations for Lagomarsino Group, a major agricultural services company producing specialty crops such as cherries, blueberries, wine and table grapes and stonefruit in Tulare County, you have to be able to walk.
But walking had become a problem for Steve "Doc" Blizzard, 70, who in recent years had begun to suffer pain in both knees.
"I could only walk 50-60 yards into the field," said Steve, who retired earlier this year as director of farming for Lagomarsino Group after 18 years in Tulare County. "The amount of walking I could do was becoming shorter, but the pain was getting greater."
Outside of work, Steve loved to hunt and fish, but those activities were also becoming harder with knee pain. "When you are not feeling good you don't want to do anything, so I learned to just sit around the house," Steve said.
Refusing to accept a sedentary lifestyle, Steve visited Dr. Bruce Le, a local orthopedic surgeon about the pain. While they tried cortisone injections, the relief was just temporary. Knee replacement was necessary.
Steve opted for two knee replacements at Kaweah Health Medical Center; one was replaced in 2013, and the other in 2015. "I did one and the experience was so good I couldn't wait to get the other one done. I was really impressed with the whole program," he said. "I feel like I'm 30-40 years younger."
While Steve has retired, he's back to the outdoor activities he loves - hunting, fishing and swimming, and has no plans to spend retirement sitting at home. But he has planned a move to Texas so he can be closer to family.
"It's like the breaks have come off and now I can go," he said. "Everything in life is just better."