Radiation Oncology
A Division of Kaweah Health

Experienced physicians come together with leading-edge technology at Sequoia Regional Cancer Center. Our goal is to provide a carefully coordinated, individualized approach to the treatment of cancer. To this end, we've brought the newest equipment for the treatment of cancer right here to Visalia and Hanford.
---
Our Radiation Oncologists
---
Some examples of the state-of-the-art equipment at SRCC are: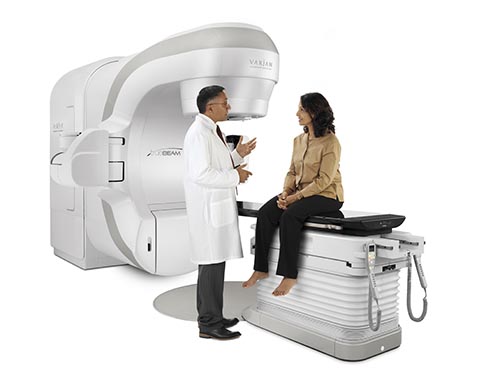 3 Varian Linear Accelerators with IMRT and Dynamic Targeting I GRT with advanced imaging techniques to verify patient position and tumor position at the time of treatment.
CT Simulator with respiratory gating, a technique that allows for organ movement. A physician can create a treatment plan to deliver radiation doses precisely at the desired point in a patient's respiratory cycle and spares the surrounding healthy tissue.
MammoSite—treatment for breast cancer that can reduce treatment from weeks to just days.
Seed implants for prostate cancer— used for selected low risk patients.
HDR Brachytherapy—high doses of radiation are delivered to tumors and not surrounding tissue by placing catheters directly into the tumor and introducing a high intensity radioactive source through the catheter. This reduces treatment time from weeks to days.
Our team works to attack the cancer and not the body, striving to provide intense treatment to the cancer while minimizing exposure to other vital tissues and organs. The goal is not only to eradicate cancer, but also to preserve best quality of life. We maximize the use of the sophisticated technology to help us achieve the desired outcomes. Our highly skilled team of radiation oncologists work with a treatment team to individualize each treatment plan based on the type and stage of the disease. We collaborate closely with patients and families, and their physicians to help make decisions about their care and customize a treatment program that meets patient needs.
Sequoia Regional Cancer Center is the ideal choice for cancer treatment, as we offer both radiation therapy and chemotherapy without having to travel to another facility.
---
Our Two Convenient Locations
Kaweah Health Radiation Oncology - Visalia
4949 West Cypress Avenue
Visalia, California
(559) 624-3100
Kaweah Health Radiation Oncology - Hanford
1443 West 7th Street
Hanford, California
(559) 585-7115