Board Duties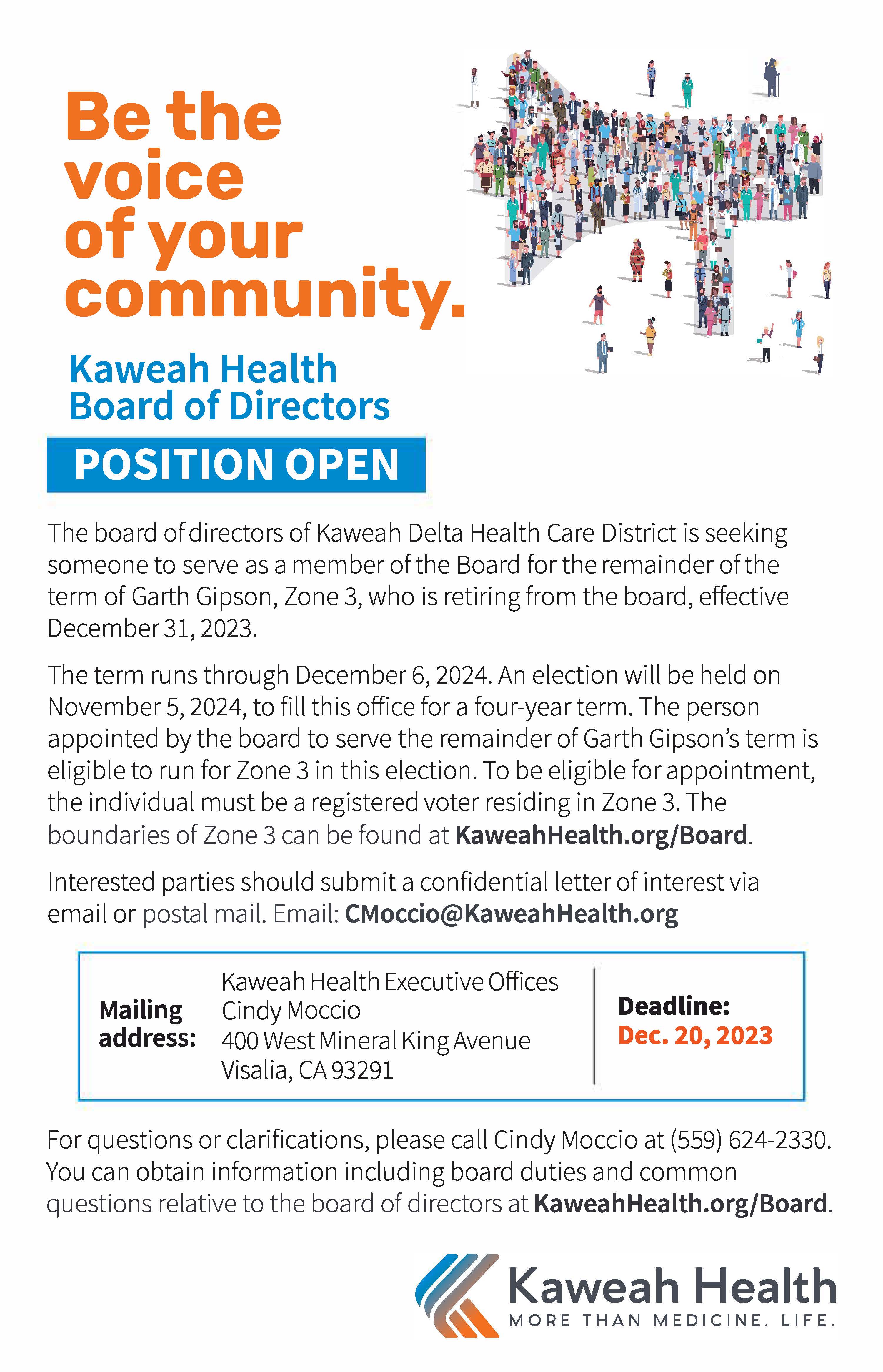 Contact information for the Board of Directors can be found: ABOUT US - Board of Directors
Kaweah Health is governed by a board of directors made up of five publicly-elected directors, elected by zone for four-year terms. Each month, the board holds regular meetings at Kaweah Health. This governing body is responsible for the safety and quality of care, treatment, and services provided district wide. This board also establishes policy, promotes performance improvement, and provides for organizational management and planning.
The board's primary responsibility is to develop and follow the organization's mission statement, which leads to the development of specific policies in the areas of quality performance, financial performance, planning performance, and management performance.
The board has the final moral, legal, and regulatory responsibility for everything that goes on in the organization, including the quality of services provided by all individuals who perform their duties in our facilities or under board sponsorship. The board has ultimate responsibility for the financial soundness of the organization. The board has the final responsibility for determining the future directions that the organization will take to meet the community's health needs. The board is also the final authority regarding oversight of management performance by our Chief Executive Officer and support staff.
The Board is also responsible for managing its own governance affairs in an efficient and successful way. To fulfill this responsibility, the Board must:
Members of the governing body are elected by the public and, accordingly, are judged on their individual performance by the electorate.
Maintain written conflict-of-interest policies that include guidelines for the resolution of existing or apparent conflicts of interest.
Participate both as a Board and individually in orientation programs and continuing education programs both within the organization and externally. As such, the District shall reimburse reasonable expenses for both in-state and out-of-state travel for such educational purposes.
Periodically review Board structure to assess appropriateness of size, diversity, committees, tenure, and turnover of officers and chairpersons.
Assure that each Board member understands and agrees to maintain confidentiality with regard to information discussed by the Board and its committees.
Assure that each Board member understands and agrees to adhere to the Brown Act ensuring that Board actions be taken openly and that deliberations be conducted openly.
Adopt, amend, and if necessary repeal the BYLAWS of the organization.
Maintain an up-to-date Board policy manual, which includes specific policies covering oversight responsibilities in the area of quality performance, financial performance, strategic planning performance, and management performance.
To review the District's Mission, Vision & Pillars every two years.
Kaweah Health's Board of Directors meets monthly. For a list of upcoming meetings or agendas, click HERE.