Lynn Byrd
NICU - Neonatal Intensive Care Unit
Please join us in celebrating the outstanding achievements of Lynn Byrd, the recipient of the October 2016 DAISY Award. The DAISY Award For Extraordinary Nurses is a program adopted by Kaweah Health to honor the super-human work nurses do for patients and families every day. By nomination from her peers, Lynn exemplified the values of Kaweah Care.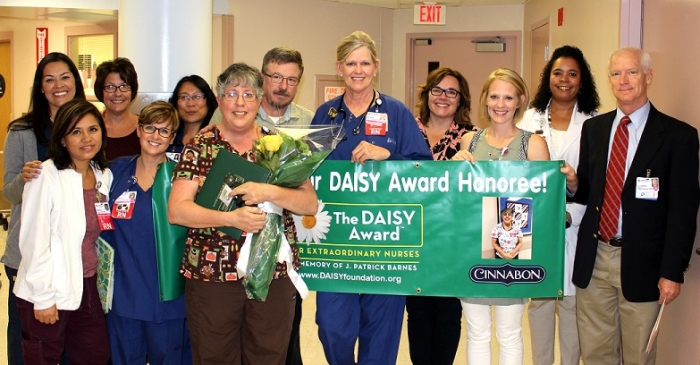 Nomination by Susanne Kellogg
"Lynn has such a gift of love and such a unique way of care with the infants she cares for. She is very compassionate to the infant with her touch times, she speaks to them as if they understand her and devotes quality time to each infant as if that baby were her own child. When the parents come to visit, she laughs and talks with them, always providing forms of education through demonstration or reassurance. I love to watch how Lynn provides care. It encourages me as a nurse in the NICU."
To pay tribute to Lynn for demonstrating exceptional talents, dedication and service to patients, she received a one of kind sculpture and banner to be displayed in her department for her achievement.
2016 2Q Finalists:
Diana Saetern, 3N
Pearl Valencia , 3N
Debbie Purviance, 3N
Jennifer Lyons, Surgery
Cynthia Degroot, 3W
Felicia Vaughn, NICU