Kristi Myers

Kristi Myers, R.N.
Beyond Compassionate Care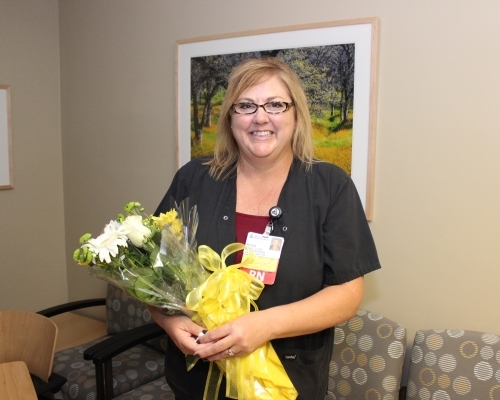 Kristi Myers, R.N., an intensive care nurse at Kaweah Health Medical Center, was recently honored with the prestigious DAISY Award , a recognition for the super-human work nurses perform every day.
Elisa Cook spent a lot of time at Kaweah Health Medical Center while her father was undergoing treatment. During her many visits, registered nurse Kristi Myers stood out among the dedicated medical professionals who cared for her father, George Robert Verduzco, Sr., a former Korean war veteran and construction worker.
For this reason, Elisa felt compelled to nominate Kristi for a DAISY Award, a national program recognizing nurses across the U.S. who go above and beyond for their patients and community.
"Kristi took the time to listen and patiently explain what was going on with my dad," Elisa wrote. "She exemplifies the caring, compassionate and highly-skilled abilities I wish every nurse had. Let's clone her. "
The DAISY Award for Extraordinary Nurses was established in 1999 by the DAISY Foundation in memory of J. Patrick Barnes and the program has been adopted by more than 2,700 healthcare facilities, including Kaweah Health. Nurses can be nominated by peers, physicians, patients and families, and other staff and administrators, and nominations are reviewed by a committee based on criteria that include compassion, teamwork, leadership, attitude, skills and knowledge.
Elisa's nomination recalled how day after day, Kristi visited Mr. Verduzco's room to see how he was doing. On one occasion, Kristi noted his breathing was worse and he was wheezing. She called the intensivist, a special care doctor for critically-ill patients, to come and assess Elisa's dad; before long, the entire medical team was present to place Mr. Verduzco on a ventilator and admit him to the Intensive Care Unit. Elisa's nomination continued on describing how Kristi showed highly skilled nursing skills, going beyond compassionate care.
Kristi was appreciative of the honor and that Elsa went out of her way to recognize the medical team. "When we take the time to acknowledge nurses, it makes me really happy," she says. "This award means a lot to me, however, it is the families that inspire me most – when I am able to provide comfort for patients and their family member in a difficult time."
To pay tribute to Kristi for demonstrating exceptional talents, dedication and service to patients, Kaweah Health presented her with a one-of-kind sculpture and personalized banner to be displayed in her department.
"Nurses are our unsung heroes," says Ed Largoza, former director of patient experience at Kaweah Health. "Every day they deliver care with compassion, kindness and humility. The DAISY Award is a way for us to pause and applaud our nurses."