Johanna Velazquez

DAISY Award Winner
Johanna Velazquez,Orthopedics/Surgery 4 South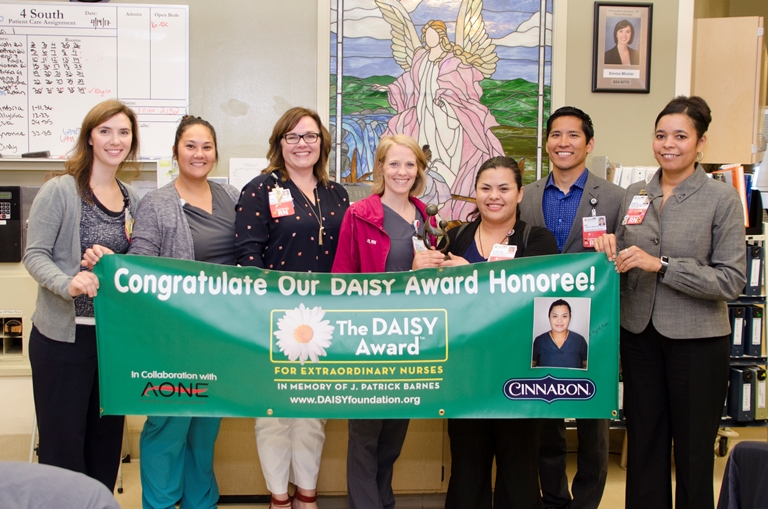 Please join us in celebrating the outstanding achievements of Johanna Velazquez, the recipient of the April 2017 DAISY Award. The DAISY Award For Extraordinary Nurses is a program adopted by Kaweah Health to honor the super-human work nurses do for patients and families every day. Johanna was nominated by her patient for exemplifying the values of Kaweah Care.
Submitted by: Antonia Lopez, Patient
I want to take this opportunity to commend Johanna for the exquisite care and high quality of attention given to my mother. Over the years, mom has been cared for/in the care of many nurses. Johanna is hands down the best in all ways!
Johanna was my mom's nurse for three days. Mom was a struggle as dementia/ sundowners condition made nursing challenging.
Attending the person, the human being:
Johanna observes, senses, connects with patient. She notices and looks for tiny and fleeting indications of changes in behavior. She does not "look and run".
Gentle, confident, compassionate approach to nursing. From changing IV's to repositioning body.
Soothing, encouraging tone of voice and facial and body gestures. Patient left to feel loved and understood.
Present . Never felt like Johanna was "in a rush". I'm sure every patient, not just my mom, feels/felt like she was Johanna's ONLY patient.
Communication with relatives. Johanna was patient with "redundant" questions. Able to explain the treatment and use language that was clear and understandable to common folk.
Please take a moment to acknowledge the impact that Johanna makes to your patients, their families and, of course, the Kaweah Hospital community.