How to Make Face Masks
The pattern is courtesy of The Turban Project*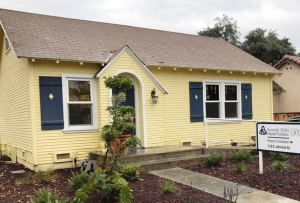 Where to drop off: Foundation Office. 216 S. Johnson, Visalia (the little yellow house) - (559) 624-2359

Feel free to park in the driveway, HONK, and someone will be with you shortly.
We are welcoming fabric masks from our community as we prepare for COVID-19.
Thank you so much for your interest and care.
According to the CDC, fabric masks are a crisis response option when other supplies have been exhausted.
What You Will Need
Cotton fabric, a pretty print is best. Use tightly-woven cotton fabric on both sides.

Rope Elastic, beading cord elastic will work (you may also us 1/8" flat elastic)

Cut the elastic 7" long and tie a knot at each end (DO NOT knot the ends of the flat)
You Can Make Two Sizes: Adult or Child
Put right sides of cotton fabric together

Cut 9x6 (Adult) or 7.5 x 5 (Child)

Starting at the center of the bottom edge, sew to the first corner, stop. Sew the elastic with the edge out into the corner. A few stitches forward and back will hold this.
Sew to the next corner, stop, and bring the other end of the same elastic to the corner and sew a few stitches forward and back.
Now sew across that top of the mask to the next corner. Again put an elastic with the edge out.
Sew to the next corner and sew in the other end of the same elastic.
Sew across the bottom leaving about 1.5" to 2" open. Stop, cut the thread. Turn inside out.
Pin 3 tucks on each side of the mask. Make sure the tucks are the same direction
Sew around the edge of the mask twice. It is so easy to make this. Be sure any fabric design is placed horizontally.
Frequently Asked Questions
1. Does it have to be this pattern?
Yes. Please use the pattern provided on this page.
2. Would masks with strings instead of the elastic around the ears work, too?
Yes.
3. What kind of fabric should be used?
Please use tightly-woven 100 percent cotton fabric.
4. Can these be worn over N95 as covers?
Yes.
5. Should masks be sprayed with water and stain protector on the outside?
Not necessarily because the person wearing the mask would inhale fumes and the mask would constantly have to be sprayed.
6. Do we have to add boning to the nose bridge so that the mask can be pinched to form around the nose?
They can, but it is not necessary.
7. Is 1/4 inch elastic acceptable if we're unable to get the elastic size listed?
Yes.
8. Are these for multi- or single use?
Single use only in crisis mode when there are no hospital-grade masks available.
Deaconess Hospital provides instructions on how to make a mask for doctors, nurses and other health care workers during COVID-19 coronavirus. Visit Deaconess.com/FaceMasks for more information.