Kaweah Health's Master Facility Plan

Kaweah Health's Master Facility Plan
What will Kaweah Health look like in the next 10, 15, or 30 years? With the expertise of RBB Architects and help from our community, we are on course to determine how Kaweah Health will continue to serve our community long into the future.
Where We're at Today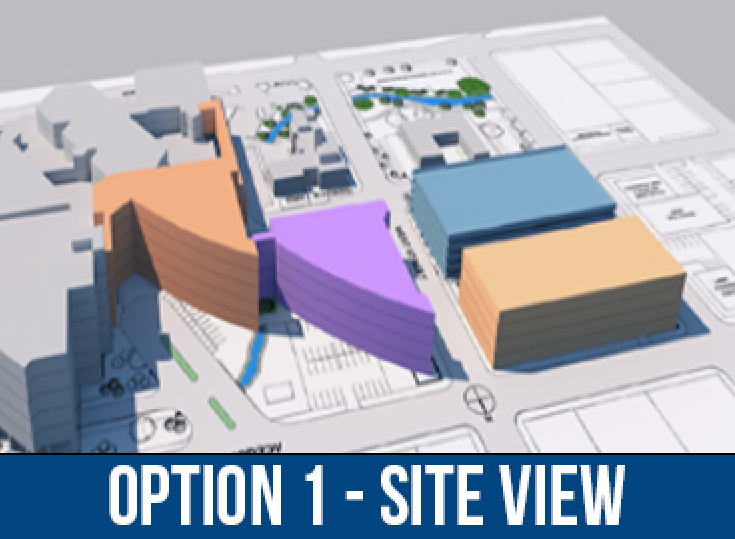 We restarted our current master facility planning process in 2018, with an open and transparent public bidding process, for an architect who could develop a facility plan that would meet our future healthcare facilities and technology needs. RBB Architects was unanimously selected based on their proven track record of building lower-cost hospitals that are highly efficient to operate. RBB has developed a number of solutions for Kaweah Health, including our recently opened Emergency Department expansion.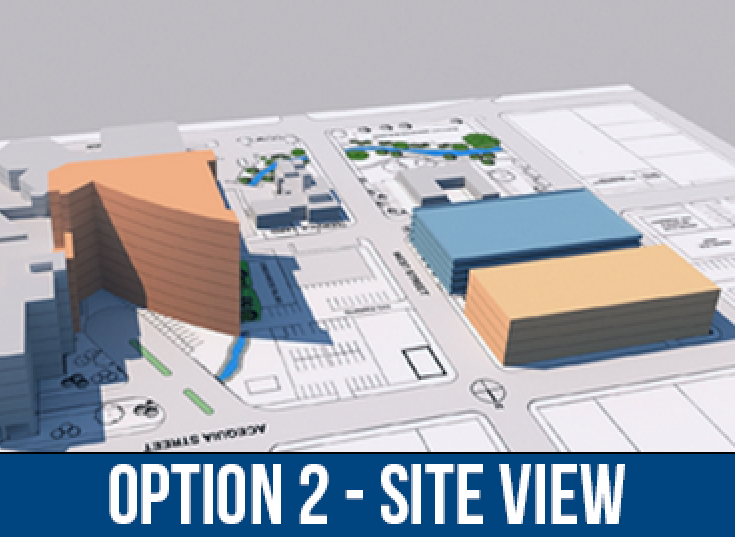 The Mineral King Wing of our downtown hospital opened in 1969 and houses 206 of Kaweah Health Medical Center's 435 inpatient acute care hospital beds. When this building opened it was state-of-the-art, with modern and private patient rooms. In 1969, Visalia had 27,000 residents; personal computers had not yet been released; it was the year that the U.S. went to the moon. A lot has changed since 1969. Healthcare has changed a lot, too.
While the Mineral King Wing has served us and our community well, it no longer meets the needs of our patients, their visitors, our employees, or the physicians practicing in our hospital. The patient rooms are quite small and the "pie" shape makes it difficult to bring all of the necessary equipment into the roomThe rooms simply were not designed for today's medical equipment or computers. It is also very challenging for patient's family and friends to comfortably visit in these small rooms. The infrastructure, including electrical, plumbing, and added computer wiring is all nearing capacity. Our community needs a modern facility that allows Kaweah Health to continue providing excellent care right here in Tulare County.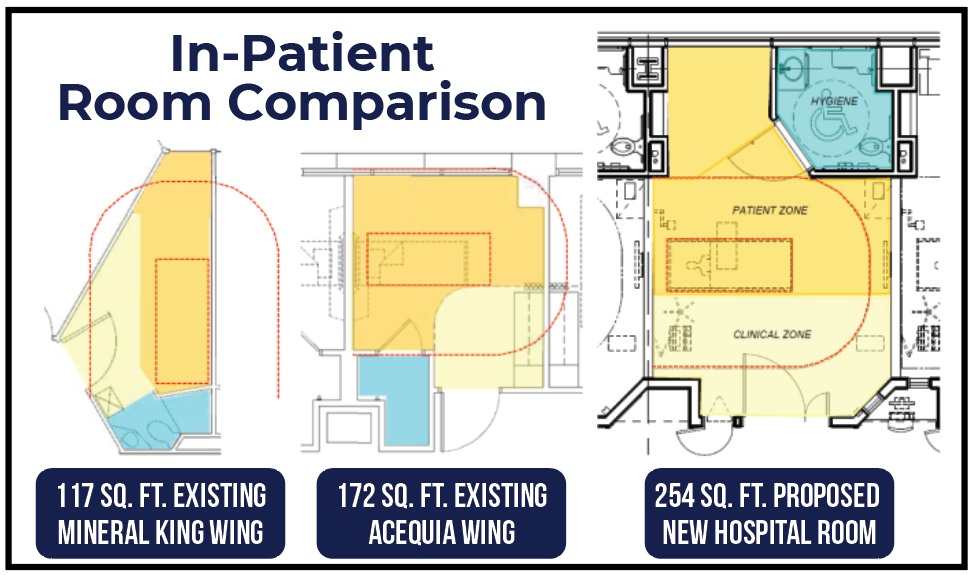 In addition to the need to modernize, California regulations (SB1953) indicate that the Mineral King Wing cannot be used for acute inpatient care beyond 2030 because it does not meet State earthquake standards. Our organization, and our community, cannot afford to lose the 206 beds in the Mineral King Wing in 2030. In fact, given our community's growth and the very high occupancy of Kaweah Health Medical Center, our community will need more hospital beds. It is vital that we work together with our community to develop an affordable way to replace the Mineral King Wing and expand access to care in our community.
In 2016, Kaweah Health proposed a replacement strategy for the Mineral King Wing and asked voters to support Measure H to help fund the project. We realize now that we did not do enough to involve the community in the planning process, and the bond measure was defeated. We are now committed to involving the community early and throughout the planning process.
Since the 2016 defeat of Measure H, we've worked closely with experts and community members to determine whether we can bring the Mineral King Wing into compliance. We've carefully researched a number of options, but they're too costly. For example, we've learned it would cost up to $300 million to retrofit the Mineral King Wing with structural shear walls that would cover many of the windows– work that cannot be performed while the building is occupied. The building would have to close for months or years during construction. On top of that, the option would leave us with fewer hospital rooms, which patients and visitors have told us for years are too small and outdated.

A New, More Modern Approach
With cost and efficiency in mind, we believe it would be most prudent to preserve funds by working to modernize our Medical Center in a two-phased approach that will be more affordable and will meet our community's growing needs. We've narrowed our architect's options and now we need your input on which option you think will allow us to offer quality health care to this community for the next 50 years. The proposed patient rooms would be consistent with current best practices in hospital design, which include larger patient rooms at 254 square feet (which would allow family members to stay overnight), proper-sized bathrooms, and room for medical equipment to provide a safer overall experience.
​Option 1

Option 2

Two Towers, 2 Phases

One Towers, 2 Phases

Phase 1:

5 Stories

120 Beds

452-Car Parking Structure

Timeline: 2026-2030

Cost: $314 million

Phase 1:

9 Stories (4 shelled or empty)

120 Beds

500-Car Parking Structure

Timeline: 2026-2030

Cost: $435 million

Phase 2:

4 Stories in a second tower

120 beds

348-Car Parking Structure

Timeline: 2036-2040

Cost: $360 million

Phase 2:

4 Stories filled-in

120 beds

Timeline: 2036-2040

Cost: $101 million

Total Cost: $674 million

Total Cost: $536 million
What Else Will the Master Facility Plan Address?
The master facility plan is helping us meet the changing healthcare needs of the community we serve, today and into the future. Master facility plans are based on research, best practices, and community feedback. In addition to modernizing our Mineral King Wing, the plan will help us determine how we best develop:
New facilities for Kaweah Health to care for the community;
New services needed;
Our ability to increase the community's access to health care; and,
Areas that are currently a challenge, including parking.
Is Kaweah Health Going to Issue a new General Obligation Bond?
The short answer is, probably yes. Kaweah Health is a public hospital that serves one of the poorest regions in the State. 60% of Tulare County residents are covered by Medi-Cal, living close to or below the federal poverty level. Hospitals and physicians lose money when they treat Medi-Cal patients. Kaweah Health's ratio of Medi-Cal patients is much higher than most hospitals in the State, making it more difficult for us to generate enough profit or save enough money to invest in new buildings. And we see all patients, regardless of their insurance coverage or their ability to pay.
Despite these challenges, this community, and everyone that lives in it, deserves access to excellent health care close to their home. Kaweah Health is committed to funding as much of the replacement project as possible, and to making the project as affordable as possible. We are working internally and with financial advisors to better understand exactly how much we can afford through a combination of tax-exempt revenue bonds (repaid by the hospital's revenues and not taxpayers), operating revenues, cash reserves, grants and fundraising. As soon as those figures are established we will publish those amounts to show the community the exact impact a general obligation bond will have on property owners. We are committed to transparency and encourage open dialogue with the community that we exist to serve.
What's Next for Master Facility Planning?
After we collect feedback from the community, our employees, and our medical staff regarding the two replacement hospital options, we are going to engage our architect, RBB, in the next phase on the planning process. This will include much more detailed concepts for the design of the hospital and the services it will contain. This process will also help us refine the cost estimates. Simultaneously to this work, we will be increasing our community engagement efforts. We plan to use town halls, online meetings, website updates, social media, focus groups, newspaper articles, and more to educate our community on our efforts, and to provide many opportunities for community members to ask questions and provide feedback. Visit this website for updated information on our master facility planning process and on upcoming community engagement events.
Our Modernization Track Record
Kaweah Health, like any large organization, is always planning for the future. We have a long and successful track record of effectively planning for the future and, as a result, we can anticipate needs and quickly adapt, in any situation. This was most recently evident during the COVID-19 pandemic. When our community needed help, we quickly stepped up and developed a free COVID-19 hotline, telehealth options, and drive-through COVID-19 testing, which not only increased access for Tulare County residents, but provided results more quickly than a commercial lab.
Inside our Medical Center, we completed projects to improve the care and safety of our patients, including an airflow project that allowed us to isolate up to 86 COVID-19 positive patients, up from 10 we had at the start of the pandemic. And, when vaccinations were made available, we were the first to partner with our County's Health and Human Services Agency, sending our team to assist with mass vaccination clinics. When we could give vaccinations at our clinics, we also provided those to the community.
Here are examples of our most recent efforts to modernize facilities and technologies for this community:
2021: Kaweah Health's Emergency Department doubles in size (adding Zones 4, 5 and 6).
2021: Kaweah Health opens the Tulare Multi-Specialty Clinic.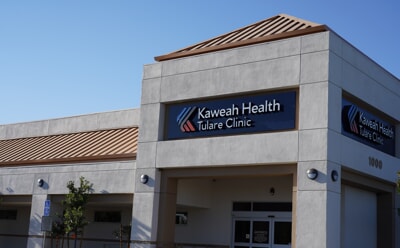 2020: Kaweah Health becomes the first hospital in the world to deploy the FUJIFILM Sonosite Synchronicity system that brought ultrasound technology to the bedside in the Emergency Department, allowing physicians to more quickly diagnose and treat patients.
2020: Kaweah Health opens 24 new intermediate ICU beds in the Acequia Wing 5th floor.
2020: Kaweah Health opens new 23-bed Neonatal Intensive Care Unit in the Acequia Wing 6th floor to care for Kaweah Health's littlest patients.
2019: Kaweah Health adds the most advanced form of imaging and radiation therapy technology to treat benign and cancerous tumors at Sequoia Regional Cancer Center.
2019: Kaweah Health replaces its daVinci® robotic surgery system with the most advanced model.
2018: Kaweah Health opens its second Urgent Care Center in Visalia (Demaree Location).
2018: Kaweah Health unveils three clinic expansion projects, bringing expanded health services to Lindsay, Exeter, and Dinuba.
2018: Kaweah Health opens a new comprehensive cardiology clinic in Visalia; Kaweah Health expands obstetrical operating rooms.
2016: Kaweah Health begins using smallest heart pump in the world to treat cardiac patients.