Kristen Santos
Author:

Kristen Santos

Date Submitted:

Apr 5, 2017

Category:

General Care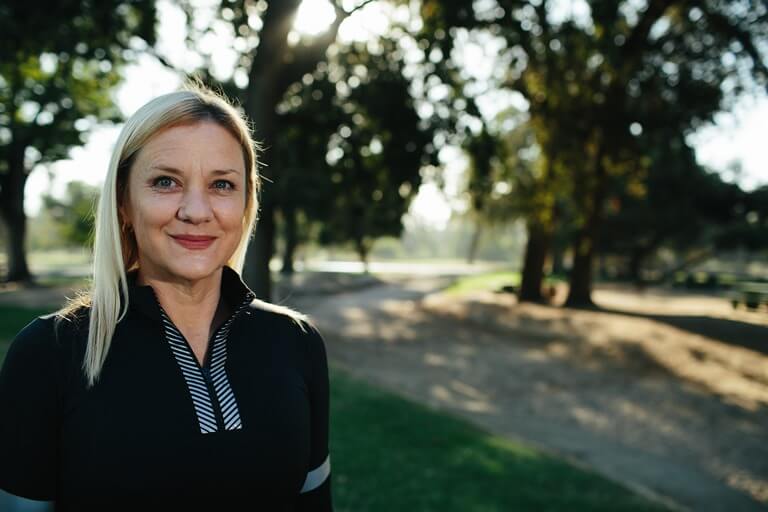 It was May 3, 2016. Something wasn't right. Kristen Santos knew it. She was dizzy and running a fever. It felt like the flu, but worse. Not well enough to drive, she asked a neighbor to take her to the hospital.
"I don't remember anything after that," said Kristen, who woke up briefly, more than 10 days later inside Kaweah Health Medical Center's Intensive Care Unit (ICU).
When Kristen woke next, she'd missed Mother's Day, and her two grown children who live out of the area – Celeste and Nicholas – were beside her; her boyfriend Brad, was whispered "I love you," in her ear. Three of her fingers and two of her toes had turned black from lack of blood circulation. Her kidneys had shut down. She had experienced a heart attack. All were the result of her diagnosis with sepsis, the body's overwhelming and life-threatening response to an infection, which can cause tissue damage, organ failure and death. At the age of 48, Kristen, a retired police officer, who had long been the picture of health, was given a 40 percent chance to live.
Today, Kristen is alive and thankful. She'll always wonder how a blister on her foot became infected and landed her in the hospital for 28 days. The blister developed on a Saturday after she wore the perfect pair of heels to match her outfit to the San Francisco ballet. Two days later, she began feeling sick.
"Most people want to get out of the hospital, but when I drive by Kaweah Health, I have to go in and say thank you," Kristen said. "Everyone was amazing, from the nurses to the physical therapists. I call them my angels."
There are two types of infections. There are infections that people get out in the community such as sepsis, pneumonia, and influenza. There are also infections that occur in the hospital setting. For both types, Kaweah Health has rigorous standards in place to diagnose, treat, or prevent their spread. Currently, Kaweah Health performs better than the national benchmark in four of the eight hospital-acquired infections monitored by the Centers for Medicare & Medicare and no different than the national benchmark in three other categories, according to Medicare.gov.
"We put in a lot of hard work to make sure our hospital is safe because it's important for patients," said Sandra Volchko, Director of Quality and Patient Improvement at Kaweah Heath.
After tests and observation, doctors diagnosed Kristen with severe sepsis. It claims the lives of 28 to 50 percent of the more than a million Americans diagnosed with it each year. That's more than the number of people in the U.S. who die each year from prostate cancer, breast cancer and AIDS combined.
"I had never even heard of this in my life," Kristen said.
Kristen was monitored 24 hours, seven days a week. She was given antibiotics, IV fluids, and hooked to machines that helped her blood circulate, mimicked the function of her kidneys, and helped her breathe, said Kassie Waters, Kaweah Health's Quality Improvement Manager. "We were her biggest cheerleaders," Waters said.
Some who survive sepsis live with life-changing effects, such as post-traumatic stress disorder, chronic pain, and organs that don't work properly. Kristen is finding her new normal.
"My world changed completely, but I'm slowly regaining my strength," she said. "If I can help someone else by sharing my story, it will all be worth it."