Kaweah Health Master Plan​
What will Kaweah Health look like in the next 10, 15, or 30 years? With the expertise of RBB Architects and help from our community, we're on course to determine what Kaweah Health will look like in the future.
---
Upcoming Meetings
Our Master Planning Firm provides updates at our regularly scheduled board meetings. Upcoming meetings:
Monday, April 6, 2020 - 12PM Open - Sequoia Regional Cancer Center
Archived Presentations
To view past presentations, please review the monthly update provided by the Master Planning Firm in the board meeting archives, click HERE.
---
Why Do We Need a Master Plan?
Kaweah Health must meet the changing healthcare needs of the region today and into the future. A master plan is an important tool that will be based on research, best practices and community feedback to serve as our guide to meeting the future healthcare needs of this community.
---
What Will the Master Plan Address?
The master plan will help us develop solutions to the following:
Replacement of the Mineral King Wing, which houses 221 inpatient hospital beds that cannot be used beyond 2030 because the structure does not meet California's earthquake standards.
Propose new facilities for Kaweah Health to care for the community.
New services needed
Our ability to increase the community's access to health care
Areas that are currently a challenge, including parking.
---
Our Master Planning Firm

---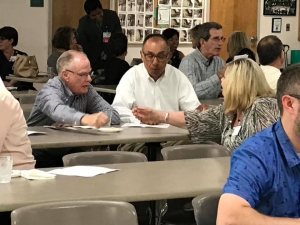 The master planning firm, RBB Architects, was unanimously selected by the Board in November 2018 with input from members of Kaweah Health's "Hospital of the Future" Community Advisory Committee, one of five community groups totaling approximately 200 people that have offered Kaweah Health input on a variety of topics. Members of the "Hospital of the Future" Committee were there when RBB, one of four leading architectural and engineering firms, presented proposals after Kaweah Health reached out to 10 firms, none of whom were involved in the master facility plan developed for Kaweah Health in 2015. The final four proposals are available to download (PDF format) at www.kaweahdelta.org/masterplan.
Founded in 1952, RBB is based in Los Angeles and has completed over 10,000 health care and other master planning projects throughout the U.S. and overseas. The Board and committee members were impressed with RBB's experience, its ability to maximize cost savings for others, including Dignity Health Mercy Merced's replacement hospital in 2010, and its No. 1 architectural firm ranking from the Office of Statewide Health Planning and Development (OSHPD). The group liked RBB's design philosophy, which includes elements that improve quality of care for patients and reduce costs. An example is elimination of wasted space to reduce the number of steps a nurse takes from a work station to a patient's bedside. RBB is also the architect behind Kaweah Health's Emergency Department expansion.
---
Bed Needs
A key component of the master plan is centered on determining the number of acute care beds that we will need in the future to care for this community. We have already determined this number is lower than one might think due to changes in the way healthcare is being delivered; hospitals are being asked more to keep people healthy and out of hospitals or deliver care in outpatient settings, which do not require an overnight stay.