Hershey Long
DAISY Winner - Fall 2019
Hershey Long, RN
Kaweah Health Wound Center
Nominated by Connie Gonzales and Family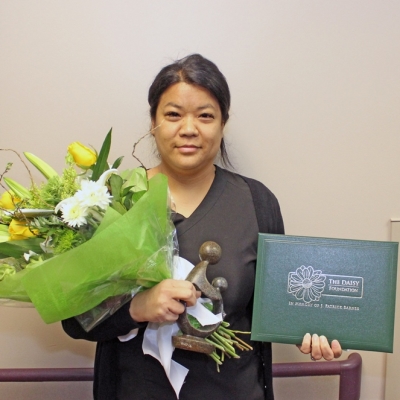 Words alone are not enough to express all that Hershey has done, not only for my husband, but for our family. My husband, Chon Gonzales is 81 years old and has been attending Kaweah Health Wound Center for the last 10 months, due to amputation of four toes. He is a very stubborn man who also has dementia. It's always been a struggle getting him to go to his medical appointments due to his stubbornness. He had become slightly depressed with his situation and was negative about his recovery.
Then we met Nurse Hershey Long! She instantly formed a connection to my husband. She puts him at ease and makes him feel comfortable during his wound treatment. She makes him laugh, smile, joke and gives him confidence in his recovery. She lifts his spirits during each visit and he looks forward to returning to the wound center just to see Nurse Hershey.
His attitude and demeanor regarding his recovery has dramatically changed due to this incredible nurse. Her compassion, kindness and her willingness to go the extra mile during each appointment is amazing! She is always willing to take the time to listen to our family's questions and concerns. She is a joy to be around and our family is truly blessed to have her as my husband's nurse.
We believe whole heartedly, that Nurse Hershey Long is a deserving recipient of the DAISEY Award.