Event Details
Grief and the Holidays (In-person Event)
Categories:

Support Groups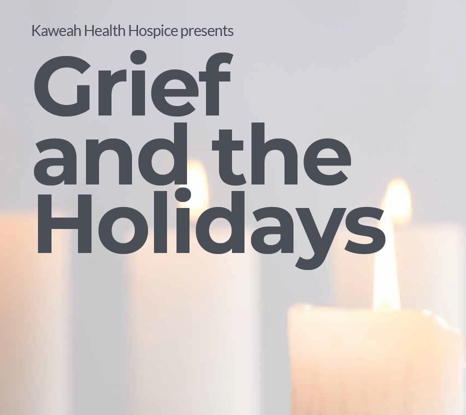 About This Event
Event Type:

Support Groups
Details:
Kaweah Health Hospice presents
Grief and the Holidays
The in-person event will feature tools and resources for those experiencing grief. Participants will have the opportunity to share ideas and receive support from each other. As this is a Kaweah Health event, usual COVID protocols will be in place – masks, vaccine proof or negative COVID test and social distancing will be maintained - family units will be permitted to sit together.
2021 Dates and Times
In-person Event
SUNDAY, DECEMBER 12
Sequoia Regional Cancer Center Conference Room @ 3:30 PM
Virtual Event
THURSDAY, DECEMBER 2
Hosted on the Kaweah Health
Social Media sites - 6-7 PM
Sessions are based on the Kaweah Health Bereavement Team's book, "Grief and the Holidays." This book is available upon request.
Ways to join:
Streaming live at:
kaweahhealth.org/grief
OR streaming live on Facebook
facebook.com/kaweahhealth
For questions or to pre-register for the in-person event, call
(559) 733-0642
Learn more at kaweahhealth.org/grief
Registration
Price:

Free

Registration Instructions: To pre-register for the in-person event, call (559) 733-0642