Event Details
Join Humana for a Medicare enrollment event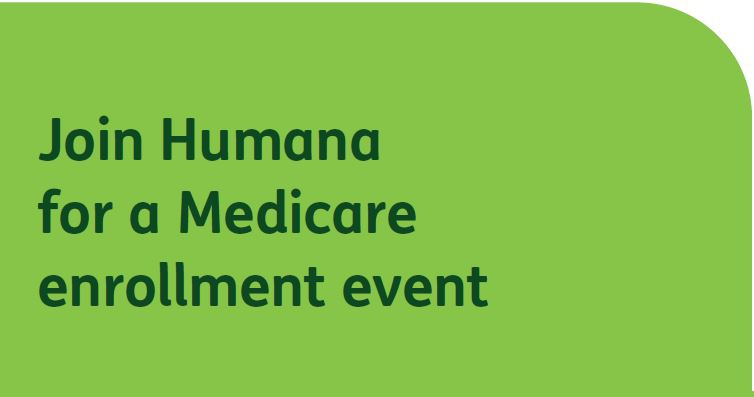 About This Event
Details:
Join Humana for a Medicare enrollment event
Learn all about Humana Medicare Advantage plans
Come to a Medicare enrollment event at Tulare County and learn about Humana's health plans.
• Medicare Advantage prescription drug (MAPD)
• Medicare Advantage (MA)
• Medicare Part D—stand-alone prescription drug coverage (PDP)
Enrollment assistance, to make it easy
A local, licensed independent agent will be here to help you choose the right plan for your needs. There's no obligation, but if you decide to enroll, a licensed independent sales agent will be happy to help you.
It starts with your RSVP. Bring a friend.
Please join us to learn more about 2023 Humana Medicare plans:
October 2022 Dates:
Lifestyles Wellness Center
5105 W Cypress Ave, Visalia, CA 93277
Oct. 5,19, 27 at 6 pm; Oct. 7,17,24,31 at 3 pm
Humana Member Resource Center
3328 Mooney Blvd, Visalia, CA 93277
Thursday, October 6, 2022 at 10:00 AM
November 2022 Dates:
Lifestyles Wellness Center
5105 W Cypress Ave, Visalia, CA 93277
NOV. 7, 14, 28 & Dec. 5 at 3 pm; NOV. 2, 10, 16 & Dec. 1 at 6 pm
Humana Member Resource Center
3328 Mooney Blvd, Visalia, CA 93277
Nov. 8 & Dec. 6 at 10 am

Call to RSVP for a meeting with a licensed independent sales agent:
Sylvia Soria
CA License #0E80470 559-805-2497 (TTY: 711) Monday – Friday
8 a.m. – 5 p.m. Ssoria1@att.net
En español? Llame al 559-805-2497 (TTY: 711)
This advertisement was sent by an independent agent licensed to sell Medicare plans. If you do not want to receive future mailings from this agent, please contact the agent to be removed from their mailing list.
Humana is a Medicare Advantage HMO, PPO and PFFS organization with a Medicare contract. Enrollment in any Humana plan depends on contract renewal.
We do not offer every plan available in your area. Any information we provide is limited to those
plans we do offer in your area. Please contact Medicare.gov or 1‑800‑MEDICARE (TTY users should call 1‑877‑486‑2048), 24 hours a day/7 days a week to get information on all of your options.
For accommodations of persons with special needs at meetings call 559‑805‑2497 (TTY: 711), Monday – Friday, 8 a.m. – 5 p.m..
At Humana, it is important you are treated fairly. Humana Inc. and its subsidiaries comply with applicable federal civil rights laws and do not discriminate on the basis of race, color, national origin, age, disability, sex, sexual orientation, gender, gender identity, ancestry, ethnicity, marital status, religion or language.
English: ATTENTION: If you do not speak English, language assistance services, free of charge, are available to you. Call 1-877-320-1235 (TTY: 711).
Español (Spanish): ATENCIÓN: Si habla español, tiene a su disposición servicios gratuitos de asistencia lingüística. Llame al 1-877-320-1235 (TTY: 711).
繁體中文 (Chinese): 注意:如果您使用繁體中文 ,您可以免費獲得語言援助服務 。請致電
1‑877‑320‑1235 (聽障專線:711)。
Registration
Price:

Free

Registration Instructions: Sylvia Soria
559-805-2497 (TTY: 711)