The Suite Life
Where Your Road to Recovery Meets us on Our Journey to World-Class Care
Every journey begins with a single step and Kaweah Health is making strides towards world-class care, introducing you to hidden gems along the way. Say hello to Broderick Pavilion, our recovery suite unit delivering comfort and style after orthopedic surgery. Bone and joint aches can be a pain, but your recovery at Kaweah Health doesn't have to be. Ask your orthopedic surgeon for more information about Broderick Pavilion.
*Rooms are based on availability and not guaranteed.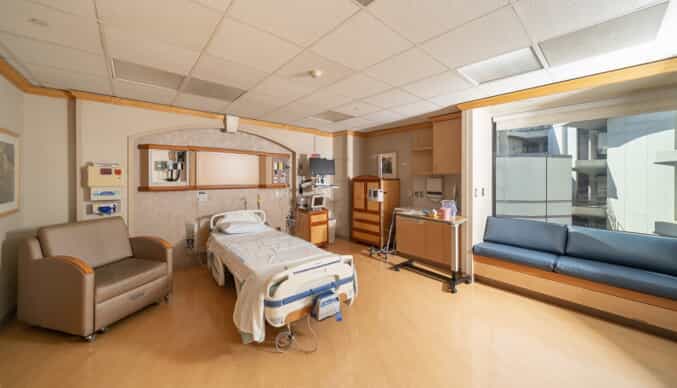 Full-Service Orthopedic Care
Comprehensive orthopedic services help people leave the pain behind. Each year, Kaweah Health performs more than 2,000 orthopedic surgery procedures and delivers award-winning care that improves patient lives.
Local orthopedic physicians perform a variety of surgeries:
Rotator cuff repair
Hand surgery
Hip surgery
Knee surgery
Ankle surgery
Spine and neck surgery
Whether your condition is acute or chronic, Kaweah Health utilizes safe, proven techniques to help you overcome pain and get back to a healthier life.
Orthopedic Surgeons
Expert Care for you From Head to Toe
At Kaweah Health Medical Center, physicians with specialized training in orthopedics perform the surgeries that help people return to everyday life. From sports medicine to spine surgery, our partnership is proud to provide a wide variety of orthopedic services:
Hand, wrist and elbow
Sports medicine
Spine and neck
Total joint replacement
Shoulders
Hip arthroscopy
We also offer additional tools and resources to help educate our patients before and after orthopedic surgery:
Total Joint Camp
Total Joint Class
Seth Criner, DO

Ian Duncan, MD

Frank Feng, DO

Bruce Le, DO

Jason Mihalcin, DO

Jun Kim, DO

Mathias W. Daniels, MD