Carotid Surgery in Tulare County
Kaweah Health Medical Center is rated 5-star in 2016 in carotid surgery by Healthgrades, meaning patient outcomes for this surgical procedure are statistically significantly better than expected. Carotid surgery, also known as carotid endarterectomy, is a surgical procedure that reduces the risk of stroke by removing a blockage that is restricting normal blood flow in a person's carotid artery. Blockages can be detected by primary care physicians with a stethoscope. If blockages are found, a patient is often referred to a vascular surgeon to determine if surgery is advised.
A Local Partnership
We partner with the following local vascular surgeons to provide patients with carotid surgery at Kaweah Health Medical Center. Pictured below from left to right are: Matthew Campbell, M.D.; LaMar Mack, M.D.; Omar Araim, M.D.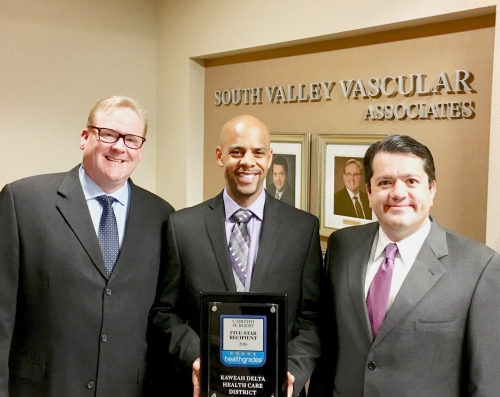 South Valley Vascular Associates
820 S. Akers St., #120
Visalia, CA 93277
Phone: (559) 625-4118
Website: South Valley Vascular