Vascular & Endovascular Surgery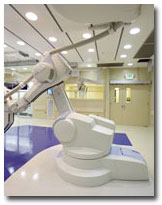 Our endovascular team focuses on the diseases of the arteries and veins throughout the body. Often vascular surgeons are working to save limbs for those with diabetes or opening up the arteries into the brain to prevent stroke.
Common endovascular procedures include:
Abdominal aortic aneurysm or (AAA) repair
Endoluminal AAA repair (EVAR)
Carotid endarterectomy
Carotid stenting Sclerotherapy
Endovascular intervention (Angioplasty/Stenting/Athrectomy)
Laser ablation
Ambulatory phlebectomy
Acute limb ischemia
Balloon embolectomy
Thrombectomy
Thrombolysis
Thoracic stent graft
Technology
Kaweah Health's Hybrid Endovascular Operating Room gives surgeons the ability to perform traditional, open surgery and minimally invasive, endovascular procedures on the same patient, at the same time, in the same place. Our OR technology provides surgeons continuous 3-D imaging and the opportunity to perform intricate procedures on people with severe, life-threatening conditions, 24 hours a day, 7 days a week. In addition to state-of-the-art surgical equipment, the hybrid OR also contains advanced imaging equipment needed for minimally invasive techniques – angiography, CT scans and MRI – providing clear and accurate visualization of small vessels, stents, catheters and guide wires during complex procedures.
Having the ability to perform imaging studies in the same room eliminates the need to move patients during a procedure and reduces the risk of infection.
Patients also benefit by:
Shorter procedure times
Less radiation used during imaging
Reduced need for ICU care
Shorter hospital stays
Faster recovery
Non-Invasive Cardiology
An important component of Kaweah Health's Cardiovascular Center is diagnostic testing. The Non – Invasive Cardiology team performs all aspects of non-invasive testing including:
Cardiac and Vascular ultrasound
Adult echocardiograms
Pediatric echocardiograms
Fetal echocardiograms
Transesophageal (TEE) echochardiograms
Stress echocardiograms
Carotid ultrasound
Lower and upper extremity venous imaging
Lower and upper extremity arterial imaging;
Vein mapping
Non-Invasive cardiac testing
Holter Monitoring
Exercise Stress Test
Tilt Table Testing
Transtelephonic Pacemaker follow up
Our Providers
Physicians are independent contractors and are not employees or agents of Kaweah Health.