Healthy Heart
*Healthy heart tips are courtesy of the American Heart Association
One of America's top 50 hospitals for cardiac surgery.
Our community is at the heart of everything we do. That is why 37 years ago, we brought heart care to Visalia and the greater Central California region, and have become one of America's top 50 hospitals for cardiac surgery.
It all started with cardiac catheterization, a procedure that helped us tell patients how well their hearts were working. While that remains an important offering today, we now offer a full range of cardiovascular services, including cardiothoracic and vascular surgery, non-invasive cardiology, advanced diagnostics, same-day discharge, cardiac rehabilitation, and much more. We also operate five cardiac catheterization labs, two cardiovascular operating rooms, and one hybrid operating room.
​​
Additionally, in 2019, we took our commitment to heart care to new heights by proudly affiliating with Cleveland Clinic's Heart, Vascular & Thoracic institute, nationally ranked for heart care since 1995.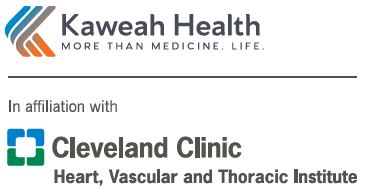 ​​
Although being honored as one of the nation's best health providers and partnering with world-class affiliates like Cleveland Clinic are outstanding achievements, the true honor for Kaweah Health lies in the life-saving care we provide the community.
You can trust your heart health with us. So when it's time to show your heart some love, look to us. Because we put more heart into healing yours.
---
Procedure Spotlight
Health Tips for A Happy Heart
Click on the links below for more information on how you can keep your heart healthy and happy.
Summer Heart Health
Heat Stroke
Heat stroke is a medical emergency. Knowing the signs and calling 911 immediately can help save someone's life. Symptoms include a strong, rapid pulse; high fever above one hundred three; throbbing headache, and red, hot, dry skin. Call 911 immediately if you see these symptoms.
Heat Exhaustion
Stay safe in the summer and warm months by knowing the symptoms of heat exhaustion. If you're experiencing headache, dizziness, weakness, nausea or heavy sweating, move to a cool place, loosen clothing, sip cool water, and seek help if your symptoms don't improve.
Staying Active in Hot Weather
Summer temperatures shouldn't stop you from jogging, hiking, or being active outside, but be aware of the danger of heat exhaustion brought on by exertion. Exercise caution when you work out in the heat. Be active in the early morning or after sunset. Move your workout indoors to the gym or try swimming a few laps.