Resources
Kaweah Health offers assistance in caring for a new baby. We will strive to provide excellent care, education, support and reassurance of new mothers, babies and families as they welcome their new baby into the family.
Our Baby Nursery Care Team at Kaweah Health
Our staff includes certified lactation counselors, childbirth educators, and nurses. Our mission is to help make breastfeeding easier by giving one-on-one and/or over-the-phone support, we also have many years of experience educating, encouraging and helping women, men and babies.
We are committed to providing the highest level of service and care available. This is accomplished with our educational classes, support groups, breastfeeding resources and services, pump rentals and more.
Free Weight Checks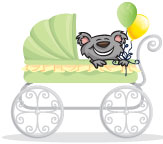 We offer a drop-in baby weigh station. New parents are welcome to come in and weigh their babies anytime between 9:00 a.m. – 4:30 p.m. Monday - Friday. Some mothers are concerned about their milk supply or want to determine if baby is on the right track with their weight gain and may find this helpful. If you have a concern about the weight of your baby a one-on-one appointment can be made with our Certified Lactation Consultant by calling (559) 624-6012.
Please note: If you or your baby or other children are sick with a cold, we ask that you wait until you are well to visit us. This is for everyone's protection. We want everyone to feel comfortable when they bring their babies to our facility.