The Modernization Plan
As the only level III Trauma Center in Tulare and Kings Counties, Kaweah Health aims to bring our patients state-of-the-art technology and the best team of experts to care for our patients' overall health, but we cannot do this alone. IT'S A COMMUNITY EFFORT.
To ensure we continue providing you and your family world-class care for generations to come, we invite you to join us in our Modernization Campaign-- an investment for your community, your loved ones, and your health. Please watch to see the DIFFERENCE your contributions continue to make at Kaweah Health, because no gift is ever too small.
In calendar year 2020 and throughout the first half of 2021, District financial resources targeted staffing, retrofitting and equipping the Main and West Campuses for the treatment of the large influx of COVID patients. In addition, the lack of insurance reimbursement for treating the high volume of COVID patients depleted the District's operating and reserve budgets. Consistent with our vision to provide excellence in healthcare for our community, the Kaweah Health Hospital Foundation Board of Directors voted to fundraise for projects and equipment requested by frontline medical teams throughout the District in order to "modernize" our facilities. Each of these requests is in line with our mission to focus on excellence in healthcare for our community. A breakdown of projects and equipment follows.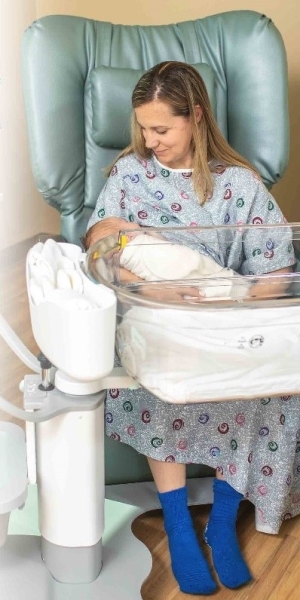 Mother/Baby Unit – Bassinets – Over 4,500 babies are born each year at the Kaweah Health Main Hospital. Nearly one-third of all moms deliver through Cesarean section birth. Recovery from this surgery can make any movement painful and difficult. The halo bassinet design meets the needs of all deliveries and can keep the baby within arm's reach for easy positioning without the need to twist or stretch. (Photo on right.)
Emergency Department – Pediatric Rooms: Three rooms in the new Emergency Department are dedicated to our youngest patients. Child friendly furniture and décor will provide a visually calming atmosphere for children and their parents during Emergency Department visits.
Med/Surgical Units – Bladder Scanners: Through the use of the new bladder scanning technology, medical staff will reduce the use of indwelling urinary catheters and improve patient comfort. The scanners will be used throughout the hospital.
Endoscopic Ultra Sound - Endoscopic Ultrasound (EUS) is a minimally invasive procedure to assess digestive (gastrointestinal) and lung diseases. It has a lighted endoscope that is attached to a tiny camera and ultrasound device. It allows physicians to examine organs and other structures that can't be seen through standard endoscopy procedures. Having this equipment will allow physicians to provide better care for our patients.
Acute Care – Ventilators Patients at Kaweah Health's highly rated subacute care facility at the South Campus are not just patients but residents, the sub-acute unit is their home. The new generation of ventilator offers more comfort to the patient. They are light-weight with extended battery life, giving the patients more freedom of movement. In addition, the ventilator is much quieter allowing for a more peaceful sleep environment.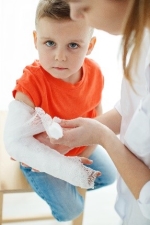 ​
Ambrosia Café Remodel –The Ambrosia Café and Guild Gift Shop, formerly located in the Mineral King lobby, were removed during the expansion of the Emergency Department to serve as a temporary waiting room. With the completion of the Emergency Department expansion, coffee, food service, gift shop, and seating area are needed to supplement service to our patients, visitors, and staff, providing a serene comfortable space to wait or take a break.
​
We hope you will consider joining us in supporting health care in your community. Every gifts counts!