Peter Weber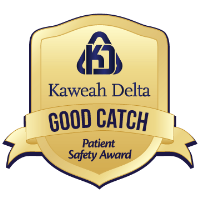 Good Catch Award
DECEMBER 2018
Peter Weber, PHARMD
Pharmacists play a vital role in caring for patients throughout their hospital stay. Over the years, the role of pharmacists has expanded to include more direct contact with patients, providers, and other healthcare team members. Much of their effort is focused on monitoring and collaborating with the team to optimize care of patients. Most important, pharmacists are able to more easily catch mistakes involving medications and are able to prevent wrong drug or dosage from reaching patients, which is why Peter Weber, PharmD, is deserving of a "Good Catch" Award.
An older patient, with health issues was filling a prescription. Knowing the patient's vitals, he was able to quickly discern that the dose ordered was unsafe. Through medication management and review of orders, Peter worked with the provider and nurse to prevent any harm to the patient.
Here at Kaweah Health, pharmacists are extremely important members of the patient care team. They use evidenced-based medicine to ensure safe medication therapy management for each of our patients. They also monitor progress during the patients stay to ensure a safe transition at discharge. We applaud Peter and other pharmacy staff who work diligently each day to maintain safety for all or our patients.